As part of series of roadshows under the guidance and direction of Ministry of Ports, Shipping & Waterways for inviting and attracting clients and various stakeholders to participate actively in forthcoming Global Maritime India Summit scheduled to be held in October in New Delhi, Indian Port Rail & Ropeway Corporation Limited (IPRCL) organized a virtual roadshow today. This had a pan India presence involving corporate and regional & site offices of IPRCL across various States in India. Representatives from Zonal Railways, State Maritime Boards, MoRTH, Major Ports, major Government sector units like Coal India Ltd., NICDC, NTPC, OMC, NALCO participated in the roadshow. Various industrial bodies and corporate units like JSW, Vedanta, Tata Steel, Jindal Power, Thriveni, Pipava Port, Rungta Mines, Legacy Warehouse, Ennore Tank Terminal, URC and various other units were active participants in the roadshow. More than 190 participants were available in the roadshow consisting of Central and State Government agencies, Railways, Ports, Maritime Boards and various officials from different corporate and industrial units related to maritime, infrastructure, logistics and other sectors.
The Minister of State for Ports, Shipping & Waterways (MoPSW) Shri Shantanu Thakur virtually graced the occasion inspiring the stakeholders to join and participate in GMIS – 23. He said that GMIS-23 will provide viable opportunity to connect with industry leaders, innovators and business experts in maritime sector around the world and to collaborate and discuss. He further highlighted that the summit will also offer an unparallel opportunity to showcase talent and forge new partnership for gaining insights into national and global port related industrial, infrastructure and logistics opportunities. He mentioned that this event is inspired by our Prime Minister Shri Narendra Modi Ji's inspiring vision of making Indian maritime sector as a leading blue economy of the world.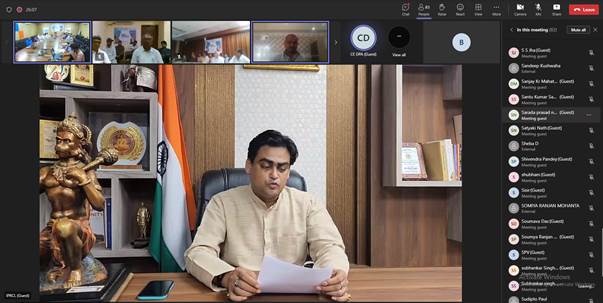 In his inaugural speech Managing Director, IPRCL Shri Anil Kumar Gupta emphasized that the roadshow will be an enlightening experience, focused on providing stakeholders with comprehensive insights into forthcoming GMIS-23 involving global participation. Summarizing business opportunities in the GMIS-23, Shri Gupta explained that by attending this event, clients will gain access to a wealth of knowledge, expert perspectives, opportunity to collaborate and build a wider network.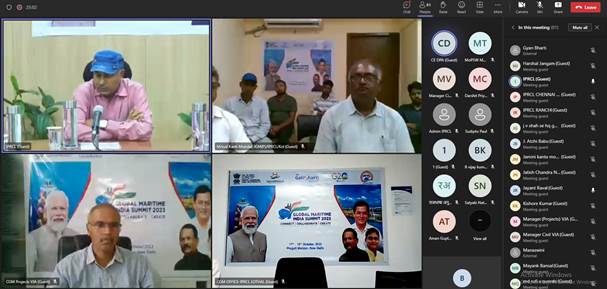 A presentation was shown to all clients highlighting the professional profile of IPRCL and essential information about GMIS-23. Presentation widely covered the success journey of Indian Maritime sector and the growth trajectory since last decade in various areas of maritime industry. The smart port, green shipping, capacity enhancement through automation, ship building & recycling, maritime tourism, inland waterways grids, maritime safety & security were deliberated for the knowledge of clients. Corporate video of GMIS was also presented to enlighten clients about business opportunities in GMIS. Shri Anang Pal Malik, Director Works and Shri R.K. Lal, CGM Business Development, IPRCL interacted with clients flagging advantages for business growth and collaboration by participating in Global Maritime India Summit 2023.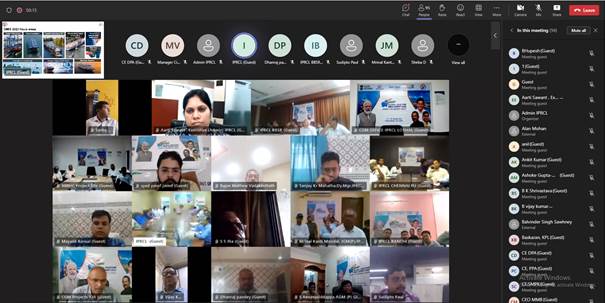 Senior officers from South-Eastern Coalfields Ltd. and JNPA represented their companies as Guest speakers and highlighted business opportunities which companies will gain during GMIS-23.
*****
Deliberating on the growth prospects of Indian maritime industry, the Minister of Ports, Shipping & Waterways, Shri Sarbananda Sonowal extended a warm invitation to all the Indian Ambassadors from the East and the West Zones to explore the investment opportunities in the domestic maritime sector.
The meeting saw a remarkable display of collaboration and commitment to maritime excellence with participation from more than 45 Indian missions including USA, UK, France, Canada, Singapore, Russia, UAE, Australia, Korea, Spain, Sweden, Switzerland, Denmark, Netherlands, Brazil etc. to name a few. Indian missions from the Commonwealth of Independent States, BIMSTEC, Middle east, Gulf and other neighbouring countries on eastern side were also present.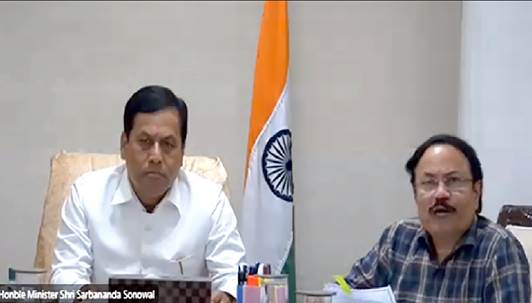 Shri Sonowal alluded to the upcoming Global Maritime India Summit (GMIS) 2023 and urged ambassadors to leverage their positions to drive participation from respective governments and corporates in various countries across the globe. Highlighting India's emergence as the 5th largest economy in terms of GDP and the 3rd largest in purchasing power parity, Shri Sonowal outlined that the nation's progress in the maritime domain, characterised by a commitment to 100% Foreign Direct Investment through automatic routes.
"With a potential investment of more than INR 10 lakh crore (US$12,000 million), we can drive economic transformation that resonates within our borders and reverberates globally. We recognize the importance of robust international trade relations for its economic growth and are taking various initiatives to enhance global cooperation on the maritime front" the Minister noted.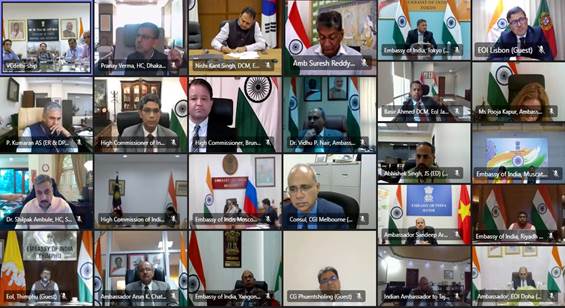 The emphasis on the blue economy was visible as the Minister invited investors to participate in diverse industries, creating an expansive canvas for growth. From cruise tourism to shipbuilding and maritime education, the vision encompasses multiple domains that present opportunities for international collaboration.
Reflecting on the collaboration potential, Shri Sonowal concluded, "India has already entered bilateral agreement & MoUs with 34 countries on maritime transport & cooperation and signed MoUs on recognition of certificates of seafarers with 40 countries. We have also been an active participant in various multinational maritime forums for equitable and sustainable development. Through your support, we shall attain mutual growth and reap the rewards, cultivating a legacy of collaboration, innovation, and prosperity"
Shri T K Ramachandran, Secretary, Ministry of Ports, Shipping & Waterways discussed the goals of the upcoming Global Maritime India Summit (GMIS) during his introductory remarks. He underlined the global aspect, emphasising three key elements: advancements in ports and interior waterways, partnerships with foreign businesses for technology and project execution, and the unique trade requirements of many nations.
Additionally, Shri Periasamy Kumaran, Additional Secretary (ER & DPA), Ministry of External Affairs provided an overview of the transformative phase in India's ports and shipping, focusing on potential for domestic and foreign investment. He went on to discuss how Indian missions aid in business networking and matchmaking, encouraging participants to find possible investors and partners, promote conversations, and serve as information hubs for the sector.
About Global Maritime India Summit (GMIS), 2023:
GMIS 2023 is a premier maritime sector focussed event to bring together pivotal figures from the industry to explore opportunities, understand challenges, and stimulate investment within India's maritime sector. Building upon the legacy of its preceding editions, this third instalment aims to unveil broader prospects for domestic and international maritime stakeholders and investors. Ready to make its presence felt on the global stage and spotlight India's maritime industry, the Maritime India Summit has now evolved to the 'Global' Maritime India Summit this year. The summit is slated for 17th to 19th October 2023, at Bharat Mandapam, New Delhi.
For more details on the Global Maritime India Summit 2023, including a complete agenda and registration details, please visit the official website at www.maritimeindiasummit.com
*****