Union Minister of Chemicals and Fertilizers, Health & Family Welfare Dr. Mansukh Mandaviya interacted with State Agriculture Ministers on the availability and use of fertilizers in the country, here today. During the meeting he also reviewed progress of nano urea, nano DAP and promotion of alternate fertilizers at the field level and steps initiated by the States in this regard.
At the outset, Dr. Mandaviya informed all the States that there is adequate availability of fertilizers in the country with the present level of 150 LMT stocks. This stock will not only take care of ongoing Kharif Season but will also ensure comfortable opening for the forthcoming Rabi Season.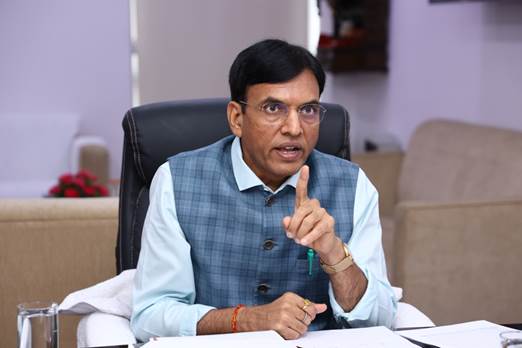 Dr Mandaviya highlighted the necessity of reducing the excessive use of chemical fertilizers to save soil. He reiterated that Union Government has already taken a step in the form of PM PRANAM scheme. The efforts also include introduction of slow-release Sulphur Coated Urea (Urea Gold), nano urea, nano DAP etc. to promote use of alternate fertilizers to save the mother earth. The State Government expressed their willingness to be active participants in this resolve.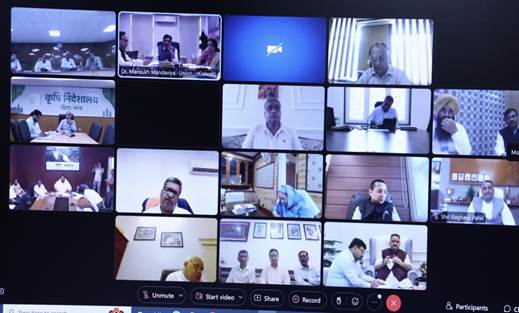 There was a discussion on the initiative of PMKSKs across the country which are acting as One-Stop-Shop catering to all the needs of farmers at one place. He made an appeal to all the State Agriculture Ministers and State Government Officials to regularly visit these PMKSKs and spread awareness among farmers.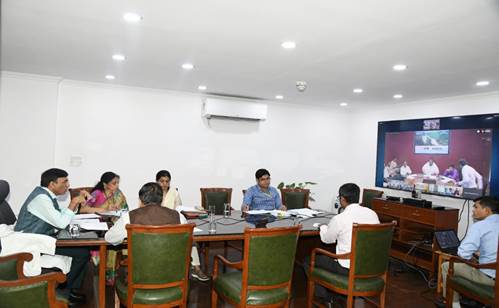 Hon'ble Minister made an earnest appeal to the States/ UTs about the need to keep a check on diversion of agriculture grade urea for non-agricultural purpose. He further asked the States/ UTs to run awareness campaigns, thereby, reducing the possible diversion of Agriculture Urea and to take strict action against the defaulters. It is recalled that based on the Joint Inspections by the Fertilizer Flying Squad of Centre Government and various State Agriculture Departments, State Governments have registered 45 FIRs against defaulting Urea Using Units, cancelled licenses of 32 Mixture Units and de-authorized 79 mixture units along with strict actions under Essential Commodities Act & Prevention of Black Marketing Act. The State Government also echoed the sentiment of Zero Tolerance against such culprits.
The Meeting concluded with Centre and States on board to take all necessary steps forward to promote use of alternate fertilizers, reduce the excessive consumption of Chemical Fertilizers. The recently launched initiatives like PM-PRANAM, Urea Gold, Nano-Urea, Nano-DAP were well recognized by the States with equal resolve to achieve the desired results in the larger interests of the farming community.
State Agriculture Ministers from various States and senior officers from State Governments and senior officials of Department of Fertilizers & Department of Agriculture & Farmers Welfare attended the meeting.
****