Minister of Fisheries, Animal Husbandry and Dairying, Shri Parshottam Rupala chaired the 2nd National Advisory Committee meeting for Animal Husbandry and Dairying formed under the Department of Animal Husbandry and Dairying. Minister of State, FAHD, Dr. Sanjeev Kumar Balyan, Secretary DAHD, Smt. Alka Upadhyaya, and distinguished members of National Advisory Committee were also present in the meeting.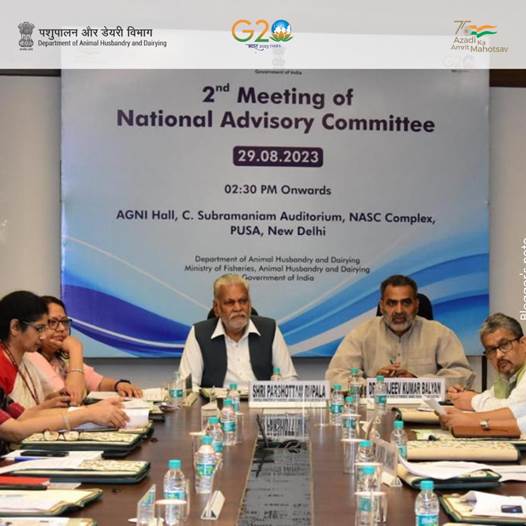 The Minister, FAHD took stock of the decision taken during 1st National Advisory Meeting and highlighted that the Ministry is committed to work with all stakeholders for creating rural Entrepreneurship and help in creating better livelihood opportunity for unemployed youth and livestock farmers in the Cattle, Dairy, poultry, sheep, goat, piggery, feed and fodder sector paving the way towards AtmaNirbhar Bharat. MoS, FAHD Dr. Sanjeev Kumar Balyan emphasised that the realigned schemes will bring a sharp focus on entrepreneurship development and breed improvement in rural poultry, sheep, goat and piggery including feed and fodder development. The Government is implementing various schemes/programmes to enhance poultry productivity, milk and meat production, for attaining nutritional security, employment generation and economic prosperity for the country.
At the outset, Secretary, DAHD, Smt. Alka Upadhyaya welcomed all members of the committee and explained the purport of the constituted committee for animal husbandry and Dairying. Minister, FAHD invited suggestions from Stakeholders in respect of the existing Policies/Programme/Schemes/Acts/ Rules/SoPs so that the same could be revised/modified based on ground realities.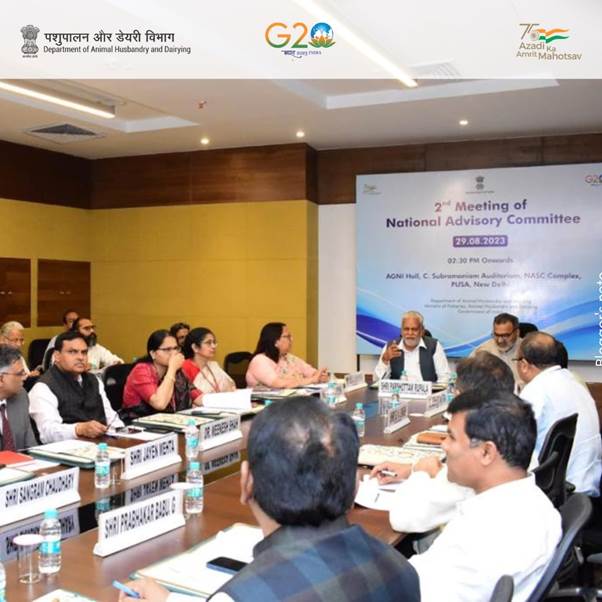 In the meeting, key discussions were held on various aspects of animal husbandry. Dr. Mukul Anand emphasized strategies for promoting goat milk farms and ensuring the long-term sustainability of commercial goat farms under NLM. Shri Prabhakar Babu G addressed the importance of quality fodder seeds. Vaccination concerns for sheep and goat populations were raised by Shri Vinayak Narawade. Several members discussed topics such as animal welfare, PCA act amendments, and feed industries. The meeting covered a broad spectrum, including breeding technologies, disease surveillance, and entrepreneurship, aiming to advance the animal husbandry sector.
Formed in July, 2022, the National Advisory Committees serve as a platform for all stakeholders to come together and deliberate and discuss on key issues pertaining to Animal Husbandry and dairying. The first meeting of National Advisory Committee under the Chairmanship of Minister of State for Fisheries, Animal Husbandry and Dairying, Dr. Sanjeev Kumar Balyan was held on 28 October 2022 in New Delhi. Setting the context, Secretary DAHD, Smt. Alka Upadhyaya highlighted that Livestock Sector grew at a Compound Annual Growth Rate (CAGR) of 7.67% (at constant prices) from 2014-15 to 2021-22. The contribution of livestock in total agriculture and allied sector Gross value added (GVA)(at constant prices) has increased from 24.32 per cent (2014-15) to 30.47 per cent (2021-22). Livestock sector contributed 4.75 per cent of total GVA in 2021-22 (at constant price).
***