Union Home Minister and Minister of Cooperation, Shri Amit Shah, planted the 4 Croreth tree under the All-India Tree Plantation Campaign of the Ministry of Home Affairs at the CRPF Group Center in Greater Noida, Uttar Pradesh, today.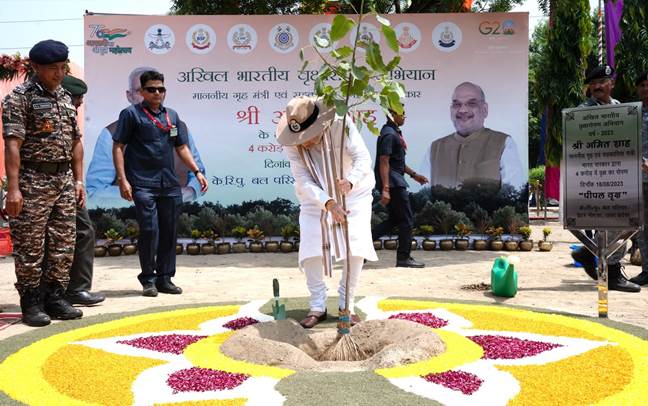 Shri Amit Shah also inaugurated 15 newly constructed buildings, built at a cost of Rs. 165 crores, across 8 different campuses of the Central Reserve Police Force (CRPF). These include, construction of 220 family accommodations at 102 Rapid Task Force at a cost of Rs. 57 crores, construction of a 50-bed hospital in Group Center, Raipur at a cost of Rs. 17 crores, administrative building, quarter guard and parade ground at Recruit Training Center Jodhpur at a cost of Rs. 16 crores, construction of a 240-men barrack in Group Center Raipur built at a cost of Rs. 11 crores, and construction of hospitals, gyms, mess, sewage treatment plants, canteens, etc. in various parts of the country. Several dignitaries including the Union Home Secretary and Director Generals of CRPF, CISF, NSG, NDRF, ITBP, SSB, BSF, and Assam Rifles were present on the occasion.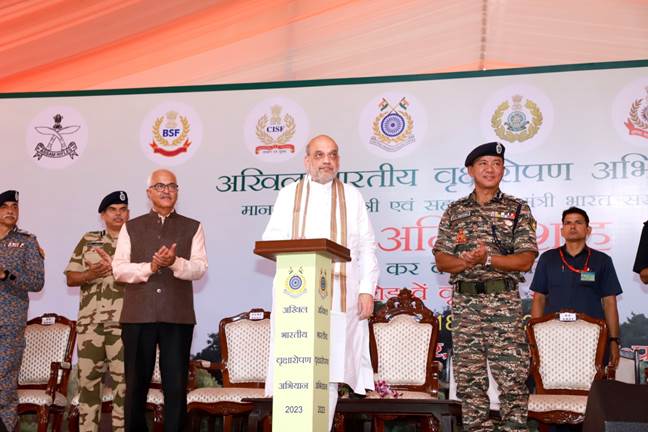 In his address, Shri Amit Shah said that today is a significant day for all Central Armed Police Forces (CAPFs). He added that three years ago, it was resolved that by December 2023, we would plant 5 crore trees and after gap filling, once they have grown bigger, we will dedicate them to the world. Shri Shah expressed confidence that the goal of planting 5 crore trees by December 2023 will be achieved. He remarked that to turn this seemingly impossible task into a reality, all the personnel of our CAPFs and their families embraced it as a challenge, regarded the trees as their friends, and dedicated time to care for them. He said that with the planting of 40 millionth sapling today, that too of Peepal, the contribution of all CAPFs in making the earth greener will forever be remembered. This campaign will write a new saga of sensitivity of CAPFs towards conservation of earth and climate change along with bravery. He stated that the target for planting 1 crore 50 lakh saplings this year is in progress, and a total of 4 crore saplings have been planted till today and the goal of planting 5 crore trees to be achieved very soon.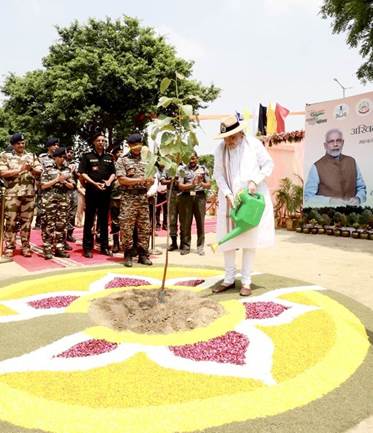 Union Home Minister said that today is the birth anniversary of Param Vir Chakra awardee Lieutenant Colonel AB Tarapore, who not only made the supreme sacrifice for the security of the country but also set an excellent example by valorously leading from the front and boosting everyone's morale. Shri Shah said that Prime Minister Shri Narendra Modi has immortalized the memory of Lieutenant Colonel AB Tarapore by naming an island in Andaman-Nicobar after him, ensuring that he remains alive in the hearts and minds of the people forever.
Shri Amit Shah said that 'All India Tree Plantation Campaign' to plant 5 crore trees is like a Mahakumbh of environmental protection. He added that the personnel of all our CAPFs have always stood steadfastly to ensure the country's internal security and safeguard its borders with their courage, sacrifice, dedication, and hard work. Apart from ensuring the country's internal security, disaster management, border security and ensuring public facilities to the first villages located on the borders, CAPFs are now doing unprecedented work towards environmental protection through tree plantation drive. He said that whether it is natural disasters or pandemics like COVID-19, our CAPFs have shown unwavering commitment to stand by the people in every crisis without hesitating to risk their lives. Shri Shah added that through the Vibrant Village Program, our CAPFs are ensuring that public service and facilities are made available to our first villages situated on the country's borders. He said that now another dimension has been added, wherein our CAPFs have made consistent efforts in environmental protection by planting and nurturing 4 crore trees, and will achieve the target to plant 5 crore trees by December this year. Shri Shah added that it will be a biggest contribution by a security-related agency towards environmental conservation, globally. He said that all the CAPFs together have planted 4 crore trees, and the officials of Ministry of Home Affairs have overseen the program at various levels. All the DGs of all CAPFs have shown commitment to this program, and it has been wholeheartedly embraced at the platoon and sector levels. In several places, protective fences and nets were installed to safeguard the saplings, and trenches were dug to ensure their survival. He added that due to all these efforts, 4 crore trees are making the Earth greener, now.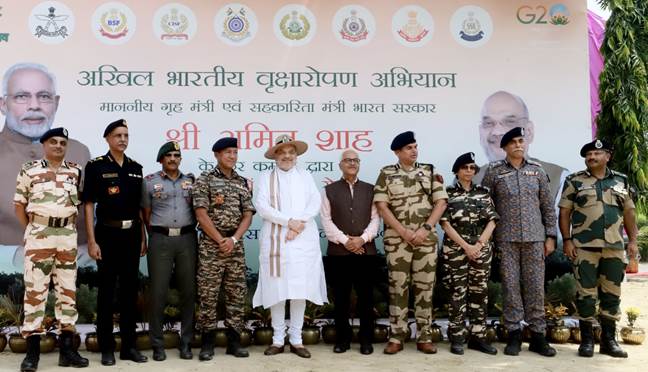 Union Home Minister and Minister of Cooperation said that environmental protection is possible only by planting trees, a tree planted today will provide oxygen to many future generations. He added that with the increasing pollution, the ozone layer is being damaged, and as a result, in the future, solar rays will directly impact the Earth, due to which the earth will not remain safe for human life. He said that the only way to prevent such a scenario is by planting as many trees as possible and reducing the emission of carbon dioxide. Shri Shah added that two factors were considered when planting trees. First, the trees being planted should have a long lifespan, and second, they should be able to provide maximum oxygen, such as Peepal, Banyan, Neem, Jamun, and others. He said that these trees emit oxygen ranging from 60-100% and will contribute towards conservation of earth for years.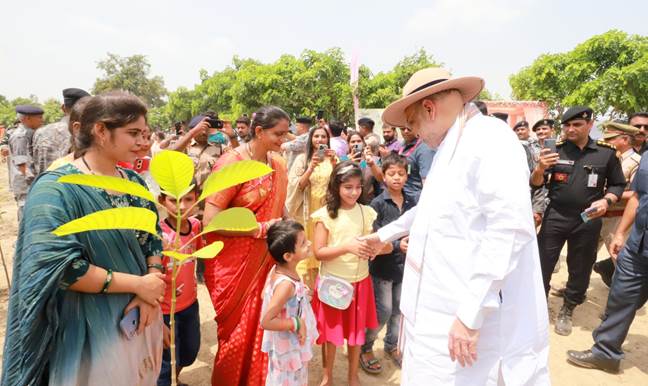 Shri Amit Shah said that Prime Minister Shri Narendra Modi has worked towards developing and making India Aatmnirbhar in various sectors, thereby strengthening the country's position in the world. He added that our heritage and culture has always promoted environmental protection, and through our sentiments and actions, we have always ensured conservation of environment. He highlighted that Prime Minister Shri Narendra Modi has made India a front-runner in the fight against climate change and global warming through the Green Initiative. Shri Shah said that for this reason, "Vasudhaiva Kutumbakam"- One Earth, One Family, One Future, has been adopted as the mission statement of G-20. He added that India, along with France, initiated the International Solar Alliance, a project that aims to create One Sun, One World, One Grid. Many countries are now participating and contributing in this alliance. It is a significant achievement of the union government under the leadership of Prime Minister Shri Narendra Modi. Home Minister said that through the Lifestyle Style for Environment (LiFE) Mission initiative, Prime Minister Modi has put forth our traditional way of life to the world as a means to save the Earth. He added that the world is now following these initiatives, and it is because of these efforts that the United Nations honoured Prime Minister Shri Narendra Modi with the 'Champions of Earth' award, recognising his commitment to sustainable development.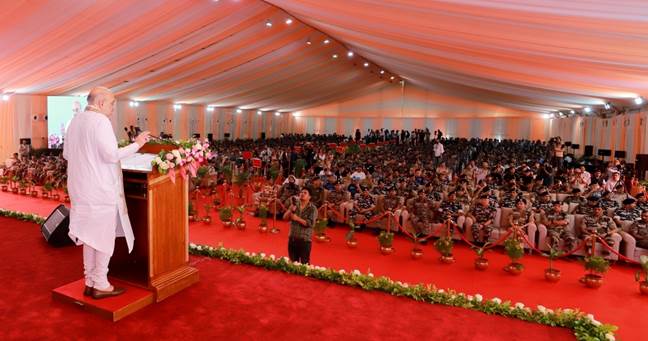 Union Home Minister mentioned that India has also explored new methods to reduce single-use plastics. He added that through the Swachh Bharat Abhiyan, Prime Minister Shri Narendra Modi has taken a significant step towards environmental protection. He said that initially, only 39% of households in the country had toilets, but now, 99.9% of households have toilets, which is a remarkable achievement in our efforts towards environmental conservation. Shri Shah said that initiatives such as Net-Zero Carbon Emission, International Solar Alliance, 20% Ethanol Blending, construction of 12 modern refineries for converting bio-gas into biofuel, and the Green Hydrogen Mission are being eagerly observed by the world and are being emulated. He added that Prime Minister Shri Narendra Modi has showcased India's commitment to environmental protection through eight crucial missions: National Solar Mission, National Mission for Enhanced Energy Efficiency, National Mission on Sustainable Habitat, National Water Mission, National Mission for a Green India, National Mission for Sustaining the Himalayan Ecosystem, National Mission for Sustainable Agriculture, and National Mission on Strategic Knowledge for Climate Change. These initiatives have re-establishing the age-old culture of environmental protection in our country.
Shri Amit Shah said that our CAPFs have planted four crore trees as part of this tree plantation campaign. When we reach the target of planting five crore trees, we will proudly showcase our sensitivity to the entire nation as CAPFs not only safeguard citizens' lives but also work diligently for the protection of the environment. He added that today, our CAPFs have accomplished what seemed impossible. Home Minister expressed confidence that as security and valour for the nation are the ethos of CAPFs, they will also embrace tree plantation as their ethos.
*****