To commemorate 24 years of victory over Pakistan in the Kargil War of 1999 and to highlight the indomitable spirit of women, Indian Army launched a Tri-Services 'Nari Sashaktikaran Women Motorcycle Rally' from National War Memorial, Delhi to Kargil War Memorial, Dras (Ladakh). The all-women Motorcycle Rally was Flagged Off by the Chief of the Army Staff, General Manoj Pande from the National War Memorial, New Delhi on 18 Jul 23. Mrs Archana Pande, Chairperson of the Army Wives Welfare Association was also present at the occasion. For the Flag Off at the National War Memorial, a host of military and civilian dignitaries including Head Business – Premium of TVS Motor Company and other sponsors were present. The Rally members were motivated and cheered by a large crowd which had gathered at the venue.
The 25-member strong tri-services team includes two Veer Naris, one of whom is a serving officer, 10 serving Indian Army Women officers, one woman officer each from Indian Air Force and Indian Navy, three women soldiers of Indian Army and eight Armed Forces spouses. The team will celebrate the decisive victory of the Armed Forces in the Kargil War and pay tribute to the soldiers who made the supreme sacrifice in service of the Nation. The Rally will cover a total distance of approximately 1000 kilometres, wherein the team will traverse through the plains of Haryana, Punjab and high mountain passes of Jammu & Kashmir and Ladakh to reach Kargil War Memorial in Dras on 25 July 23. During the Rally, the team will interact with NCC Cadets, students from various schools/colleges, Veterans and Veer Naris. For this Rally, the Indian Army has partnered with TVS Motor Company and the participants will be riding on TVS Ronin motorcycles.
The Chief of Army Staff, General Manoj Pande complimented the entire team for taking up such a challenging journey which highlights qualities of determination, Nari Shakti and the vital role played by women in Nation Building.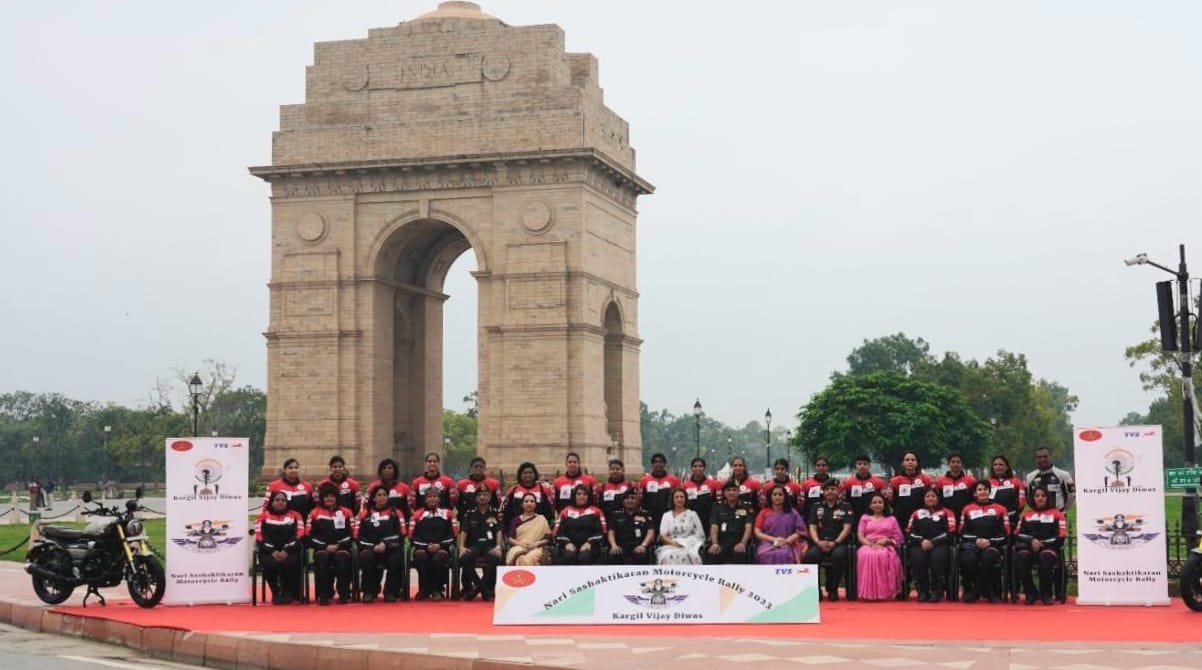 ***