Ministry of Agriculture and Farmers Welfare organized Mega Event on Mission LiFE on the occasion of "World Environment Day" today at Dr. C. Subramaniam Auditorium, NASC Pusa, New Delhi. The program began with tree plantation activity in the premises of the venue by Shri Kailash Choudhary, Minister of State for Agriculture and Farmers' Welfare, with other dignitaries. Shri Manoj Ahuja, Secretary DA&FW, Additional Secretaries and Joint Secretaries of Ministry of Agriculture & Farmers Welfare were present in the event along with staff of ICAR and DA&FW, FPOs, Agri-start-ups, Students, Scientists, Officers and Farmers from various States. This was followed by inauguration of exhibition on Natural and Organic Farming showcasing and creating awareness on the sustainable agricultural practices symbolizing Mission LiFE.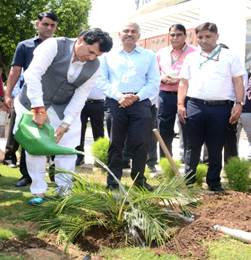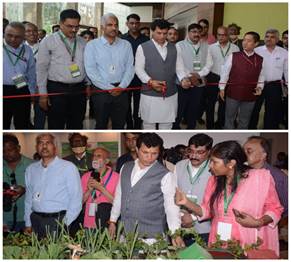 The program was inaugurated by Shri Kailash Choudhary, Minister of State for Agriculture and Farmers Welfare, by lighting the lamp. In his remarks, he highlighted the importance of Life Style for Environment and stressed upon chemical free farming as one important options for sustaining the resources for future generations. He emphasized the adoption of Mission LiFE in agriculture to address the adverse impact of climate change. Quoting the example of Rajasthan, he mentioned that the state is having pre-monsoon showers more frequently than earlier years. Untimely and heavy rains are causing distress to the farming community. Farmers are highly vulnerable to climate change. Keeping this in mind ICAR developed 1750 climate resilient varieties after 2016 and these have potential to give normal yields under adverse conditions in vulnerable areas. He also stressed upon recycling of wastes in agriculture as it is best example for circular economy. He emphasized that we should all take care in day to day life to save the resources. Then, he administered the pledge on Mission LiFE with all the audiences present in the event.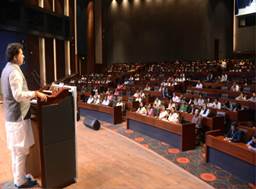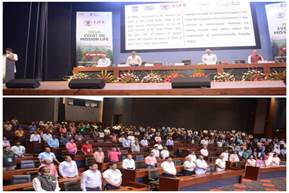 In his address, Shri Manoj Ahuja, Secretary, DA&FW briefed on the global temperatures rise from pre-industrial era and its direct and indirect impacts on agriculture and allied sectors. Maintenance of soil health through natural and organic practices having beneficial effect on soil flora and fauna is leading to better availability of nutrients in the soil. He also mentioned on the saving of water through adoption of Per Drop More Crop as India consumes more water for irrigation compared to other countries. There is a need to adopt all the 7 principles of MissionLiFE in day to day agricultural practices besides making policy towards sustainable agriculture.
Shri Faiz Ahmed Kidwai, Additional Secretary, DA&FW in his welcome address highlighted the importance of Mission LiFE and mentioned about the background of the launching of Mission LiFE by Prime Minister during CoP-26. He further gave the details of 7 principles underlying the Mission LiFE for adopting. A detailed presentation on Adopting Mission LiFE was given by Joint Secretary, Shri Samuel Praveen Kumar. He expressed that promotion of environment sustainability through agriculture is crucial for Nation's well being, preserving biodiversity and mitigating the impact of climate change. The programme ended with vote of thanks by Shri Franklin L. Khobung, Joint Secretary (NRM) and Nodal Officer (Mission LiFE). Two champion farmers who are practicing Natural Farming were honored with a certificate of appreciation.
The inaugural was followed by panel discussion on linking Mission LiFE to organic and natural farming chaired by Shri Faiz Ahmed Kidwai, Additional Secretary (NRM) and moderated by Dr. Yogita Rana, Joint Secretary (INM). Panelist Shri T. Vijaya Kumar shared the success stories of natural farming in Andhra Pradesh. Padam Shri Bharat Bhushan Tyagi stressed on crop diversification and nutritional management through organic and natural means for achieving the goals of Mission LiFE. He also called for strengthening of FPOs for higher returns to the farmers. Ms. Kashika Malhotra, M/s Invest India threw light on the potentials and ways of adopting circular economy in agriculture. Two champion farmers, Shri Shalender Sharma from Himachal Pradesh and Shri Lal from Bhuj, Gujarat shared their experiences on adoption of Natural Framing. The panelists were thanked by Ms. Rachna, Deputy Secretary, INM Division. A total of 713 awareness events and 709 action events have been organized with 52346 no. of participants and total 49028 people took pledge under Mission LiFE so far.
*******