The Southern Naval Command observed World Environment Day on 05 Jun 23 with 'Beat Plastic Pollution' as the theme and waste segregation, plastic waste removal, afforestation and mangrove restoration as focus areas.
Pursuant to the global campaign of keeping coastlines clean, around 3000 Naval personnel, defence civilians and families of Southern Naval Command undertook mass clean-up drives of beaches, harbours and waterfront areas of Mahatma Gandhi Beach, Fort Kochi Beach, Puthuvype Beach, Puthenthode Beach, Vypin Beach, Cherai Beach, Marine Drive, Queen's Walkway, Bolgatty and CoPT walkway at Kochi city. Around 4700 kg of plastic and non-biodegradable waste was collected during the campaign. In addition, a 2 km stretch of the Venduruthy channel was also cleaned while restoring about 1 lakh sq m of mangroves along the channel's banks.
Vice Admiral MA Hampiholi, PVSM, AVSM, NM Flag Officer Commanding-in-Chief, Southern Naval Command along with Mrs Madhumati Hampiholi, President, Naval Wives Wellness Association (Southern Region) participated in the clean-up drive at Fort Kochi beach along with SNC Parivaar. The beach cleanship drive also saw motivated participation by recently joined Agniveers, NCC cadets, school children and families from ICICI Foundation. Hon'ble Mayor Adv M Anilkumar, Kochi Municipal Corporation also graced the occasion with his presence. Speaking to the media team present at the beach, C-in-C South reaffirmed the Indian Navy's commitment and continued efforts towards environment conservation, green initiatives and energy efficient practices. He also highlighted the various initiatives undertaken as part of environment friendly month in May-Jun 23 and Puneet Sagar Abhiyan at Kochi city. He urged each one to adopt Mission LiFE- Lifestyle for Environment approach towards a sustainable and healthier future.
As part of the Environment Day, more than 1600 saplings were planted by the participants from different Naval units at Kochi. In addition, community awareness/ public outreach programmes, painting and 'best-of-waste' competitions, lectures, workshops/ seminars etc were also organised centred around the theme and Mission LiFE. Other outstation naval units located at Jamnagar, Lonavla, Chilka, Coimbatore, Goa, Ezhimala and Malad (Mumbai) also enthusiastically conducted similar events with all out efforts towards making a tangible impact in environment conservation and cleaning.
Children of the Navy Children Schools and KVs in Southern Naval Command also actively participated in the event through conduct of special assembly, educative skits, environmental quiz, seminars, slogan writing, poster making and painting competitions.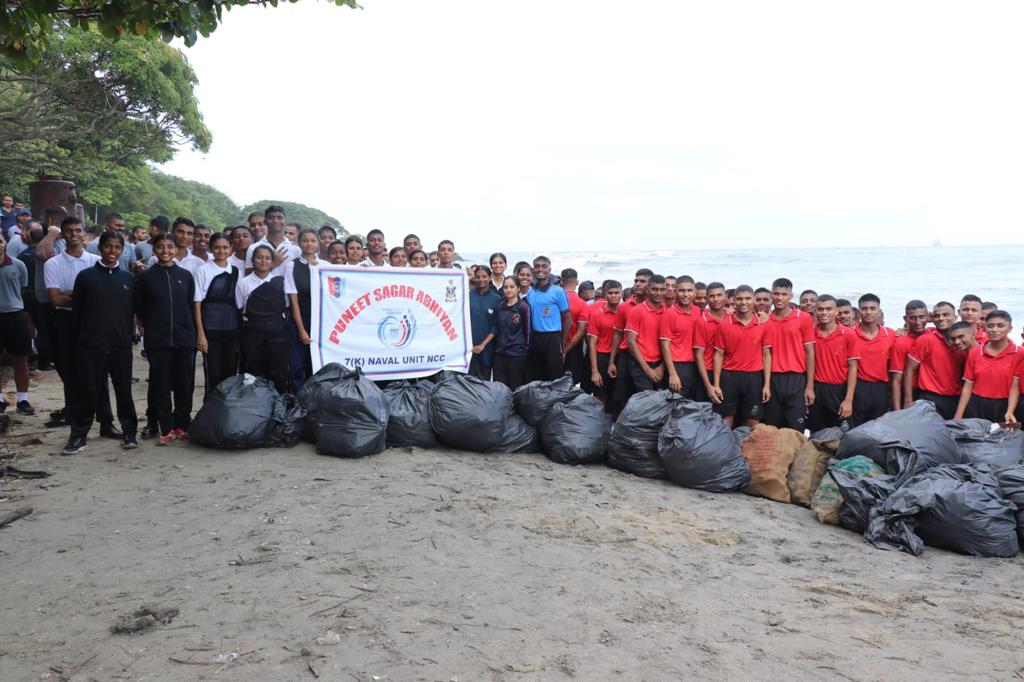 ___________________________________________________________________