The Ministry of Environment, Forest and Climate Change (MoEF&CC), Government of India envisages to celebrate the World Environment Day 2023 with a thrust on the Mission LiFE. The concept of LiFE, introduced by the Hon'ble Prime Minister of India, aims to promote sustainable living by encouraging individuals to make changes in their lifestyles and emphasizes responsible and conscious use of resources to safeguard and conserve the environment.
To generate widespread awareness and advocacy for LiFE across India, a month-long mass mobilization campaign on Mission LiFE is currently underway. Following the "whole of government" and "whole of society" approach, the Ministry has mobilized Central Ministries/ Departments, State/ UT Governments/ Administrations, Institutions, and private organizations to spread the message of Mission LiFE. The ongoing mass mobilization campaign aims to amplify pan-India advocacy and awareness about LiFE, leading up to celebration on World Environment Day on 5th June 2023.
National Centre for Sustainable Coastal Management
In an ongoing effort to promote the principles of Mission LiFE, Lifestyle for Environment, NCSCM scuba divers undertook a sea floor clean-up and awareness drive at the coral reefs of Agatti Island, one of the inhabited islands in the Lakshadweep Union Territory. The island, located in the Arabian Sea off the southwestern coast of India, is home to a diverse and vibrant coral reef ecosystem. Lakshadweep holds immense ecological and economic significance and is considered a biodiversity hotspot due to its rich marine life. The coral reefs of the islands support a wide range of organisms, including fish, mollusks, and other invertebrates, which attract tourists from around the world. The pristine beauty of these reefs, with their colourful corals and diverse marine life, makes them popular destinations for snorkelling, scuba diving, and other water-based recreational activities. Tourism associated with coral reefs contributes to the local economy and provides employment opportunities. Given their ecological, economic, and cultural significance, it is crucial to protect and conserve the coral reefs of Lakshadweep. Sustainable management practices, community engagement, and awareness campaigns can play a vital role in ensuring the long-term health and survival of these invaluable ecosystems. However, Lakshadweep Island has faced several environmental challenges in recent years, including marine litter.
On the sea floor clean-up drive, NCSCM partnered with Ammathi Scuba to conduct a sea floor clean-up and sensitization programme at the coral reefs of Agatti Island. Divers recovered around 5 kg of seafloor litter, including pet bottles, abandoned, lost, or otherwise discarded fishing gear (ALDFG), ropes, packing materials, and food wrappers. This public awareness campaign aims to improve the health of the oceans through collective action and large-scale community participation (Janbhagidari). Participants in the event took part in the LiFE pledge to safeguard the environment. As part of the event, placards and LiFE mascots were displayed on the beach and underwater to describe Mission LiFE to regional and national audiences.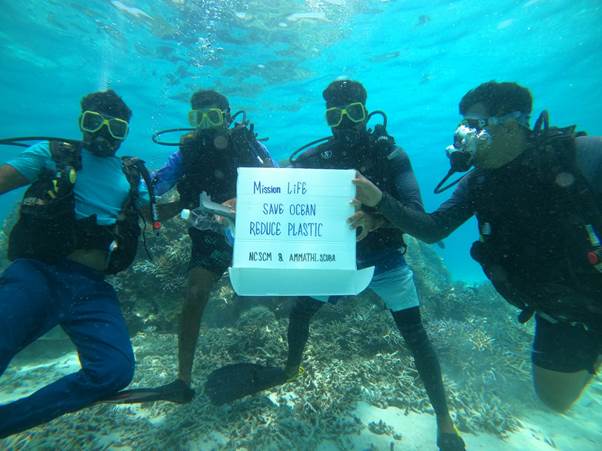 The NCSCM has launched yet another effort to promote Mission LiFE on Agatti Island, in the Union Territory of Lakshadweep. As part of Lifestyle for the Environment, NCSCM scientists undertook a public outreach and beach clean-up drive at Agatti Island. This is one of the inhabited islands in the Lakshadweep archipelago, and it holds cultural, demographic, ecological, and economic significance. Agatti Island is a popular tourist destination in Lakshadweep due to its scenic beauty, white sandy beaches, and vibrant marine life. The island offers opportunities for activities such as snorkelling, scuba diving, and boat tours. Fishing is an important economic activity on this island and throughout the Lakshadweep archipelago. The islanders have a long-standing tradition of fishing, and it plays a crucial role in their livelihoods. However, Lakshadweep Island has faced several environmental challenges in recent years, including marine pollution. Rising sea levels, coral bleaching, biodiversity loss, and extreme weather events are some of the specific environmental challenges associated with climate change in the islands.
Along with the NCSCM staff, the general public, including women, youth, and representatives from the fishing community, participated in the lagoon-side beach clean-up and awareness campaign. About 25 islanders took part in the clean-up drive, where about 20 kg of plastic waste, including discarded nets, were collected and handed over to a material recovery facility. NCSCM scientists sensitised around 60 islanders of various age groups on the services and functions provided by the several ecosystems (coral, seagrass, sandy beaches, and dune vegetation) and emphasised the need for conservation of these ecosystems. The public was made aware of the necessity of reducing plastics in such sensitive ecosystems by using eco-friendly alternatives to single-use plastics. The concept of a sustainable blue economy, including responsible tourism and fishing, waste segregation at the source and management (constructed wetlands), water (rainwater harvesting), energy (rooftop solar), biodiversity conservation, native coastal vegetation as a "bioshield" against these extreme events, and adopting a sustainable lifestyle, were also highlighted during the event. The scientists also emphasised the need to follow the litter minimization hierarchy (reduce, reuse, recycle, recovery, and disposal) for their daily litter footprint. The initiative provided a quick introduction to the islanders about the sensitivity of island ecosystems and the need to conserve the values of the sensitive ecosystems by avoiding "trampling" and "littering". During the event, participants undertook the LiFE pledge in support of the LiFE mission and safeguarding the environment. Placards, posters, and LiFE mascots were displayed on the island to describe Mission LiFE to the local community.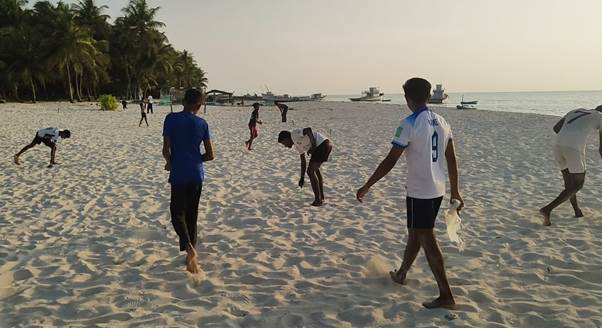 Zoological Survey of India
Zoological Survey of India, Kolkata organised a number of events for mass mobilisation of Mission LiFE at Netaji Subash Chandra Airport, Kolkata. The ZSI team spoke to managers from different sectors at the airport on different themes of Mission LiFE and asked them what steps they have taken to support LiFE.The manager of a cake shop Floury's said supporting 'Say No to Plastics' they have completely banned use of single use plastics and use cloth bags and paper packets instead of plastics. A young customer at a cosmetic shop said she uses products which are free from chemicals, not tested on animals and sourced from natural plant products.She appealed to all To support LiFE. To Save water the taps in the toilets are installed with sensor or timers. The toilets are regularly cleaned and hygiene is maintained. Continuing with the mass mobilisation of LiFE the team spoke to passengers of Air Asia flight and a nine year old school girl said she supports Mission LiFE for her future.Through this campaign Zoological Survey of India could spread awareness across 300 people of different age groups and different professions including passengers and also retail shop owners.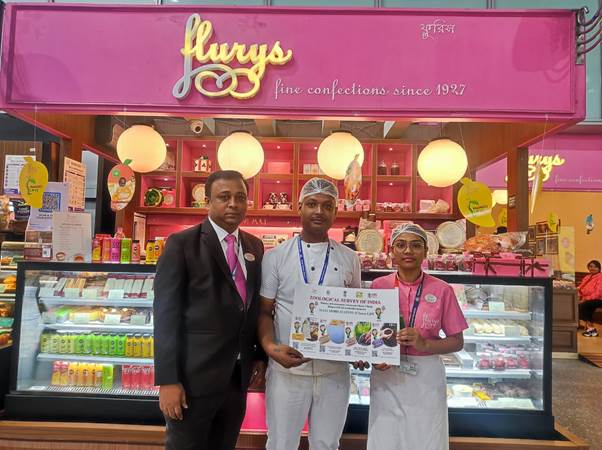 Zoological Survey of India, Kolkata conducted an awareness drive at Sanyasisthan Tea Gardens, Bagdogra, Dist Darjeeling, West Bengal in which the manager of the garden,Mr Mithilesh Singh told the tea garden workers about the importance of fauna and Mission LiFE. About 200 workers took the Mission LiFE pledge amidst the lush green tea gardens.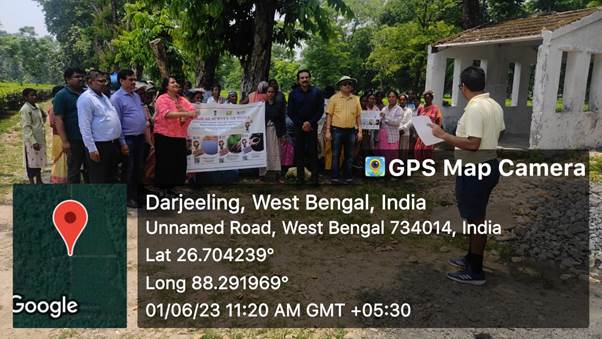 GB Pant National Institute of Himalayan Environment
Garhwal Regional Centre (GRC) of the G.B. Pant National Institute of Himalayan Environment (NIHE) conducted an awareness program and cleanliness drive along the banks of Alaknanda River, Srinagar under the 'Say no to Single Use Plastic' theme of mission LiFE. A total of 25 kg of plastic waste was collected and disposed off at the waste collection point of Nagar Nigam. A total of 35 participants participated in the program including local, faculties, researchers, and staff. All the participants pledged to adopt environmentally friendly habits.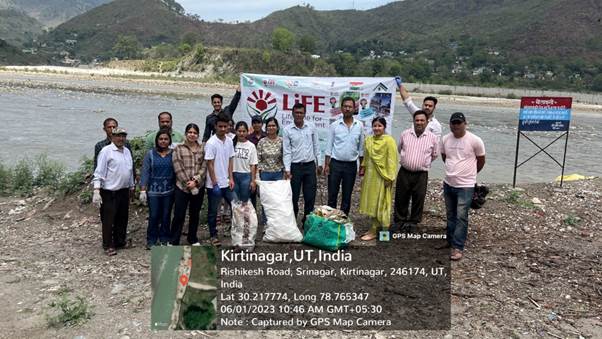 North-East Regional Centre (NERC) of the G.B. Pant National Institute of Himalayan Environment (NIHE) organized an awareness meeting under the theme "Mission Lifestyle for the Environment (LiFE)". A total of 10 participants, including scientists, researchers, and office staff, attended the meeting. The program aimed to encourage the adoption of the following practices within the office premises including avoiding the uses of water resources for our daily uses, and avoiding using single-use plastic by replacing it with environment-friendly alternatives such as cloth/jute bags. All the participants took the LiFE pledge to sustain the natural resources in the Indian Himalayan region (IHR) and to contribute to environmental conservation.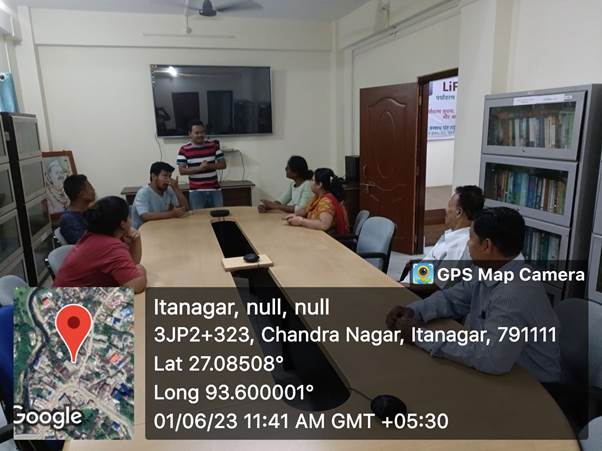 Centre for Socio-Economic Development (CSED) of the G.B. Pant National Institute of Himalayan Environment (NIHE) organized four awareness and action programs under the Mission LiFE on 01st June, 2023. Two awareness programs were conducted which were followed by two cleanliness events by faculty, research scholars and supporting staff of CSED at Jyoli Village of Almora district and its nearby spring (water source). A total of 30 participants including the shopkeepers and women from Jyoli village, Almora and tourists participated in the program. The participants were sensitized on reducing single-use plastic. All the participants took the LiFE pledge to sustain the natural resources in the Indian Himalayan region (IHR) and to contribute to environmental conservation.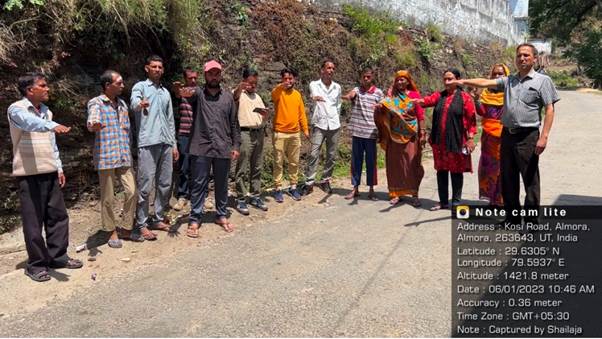 Centre for Land and Water Resource Management (CLWRM) of the G.B. Pant National Institute of Himalayan Environment (NIHE) conducted an awareness and action campaign under mission LiFE on 01 June 2023 at Badi Village, Almora, Uttarakhand. The participants were sensitized on various themes of mission LiFE themes viz. 'Save Water', 'Adopt Sustainable Food Systems' 'Reduce Waste' and 'Adopt Healthy Lifestyles' etc. Further, the participants were also informed about the role of spring rejuvenation in water security in the Himalayan region. A cleanliness drive was conducted with the villagers to clean the local water source (Naula) at Badi Village. With major participation from Women, a total of 50 participants from the village including faculties, researchers, and support staff of CLWRM, NIHE participated in the event. All the participants took LiFE pledge for adopting environment-friendly habits.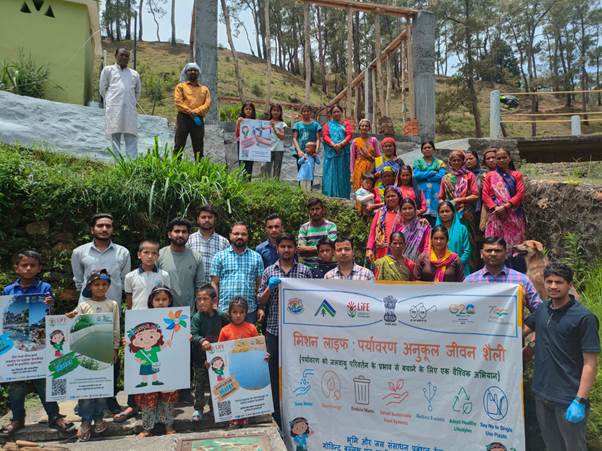 Environmental Information, Awareness, Capacity Building and Livelihood Programme (EIACP):
The program is dedicated to raising awareness, building capacity, and promoting sustainable actions among individuals and communities across India. On Thursday, 1st June, 2023, the EIACP Programme Centres conducted a series of activities as part of a mass awareness campaign on Mission LiFE leading up to the World Environment Day 2023 celebrations.
In a run up for WED Mission LiFE Campaign, EIACP PC Hubs and RPs conducted awareness drives to various stakeholders including government officials, academic institutions, government schools, colleges, etc. More than 20 activities and over 1400 participants took part in various events organised by EIACP Centres across India.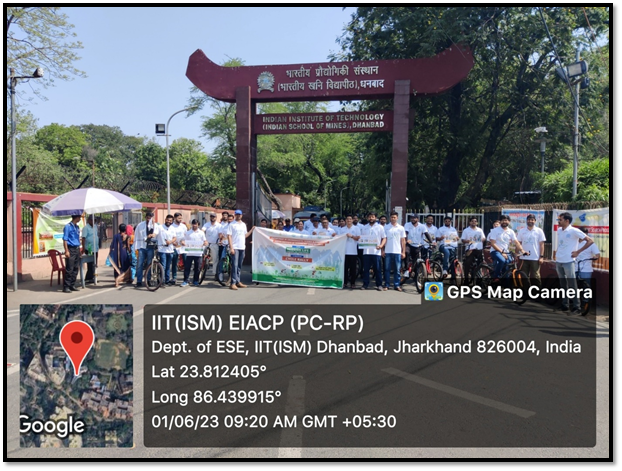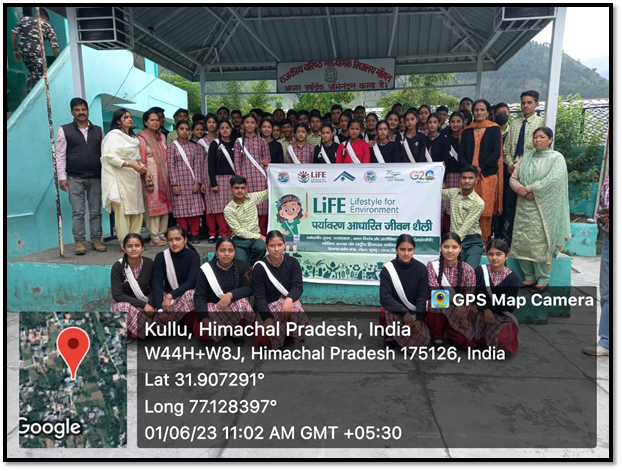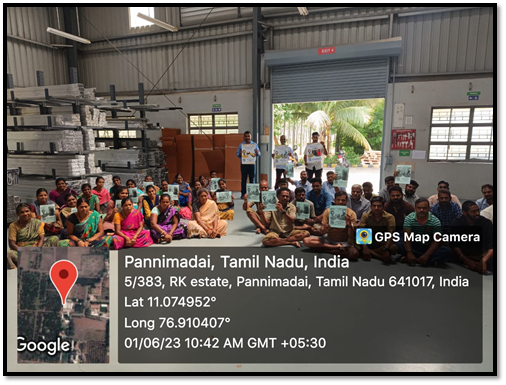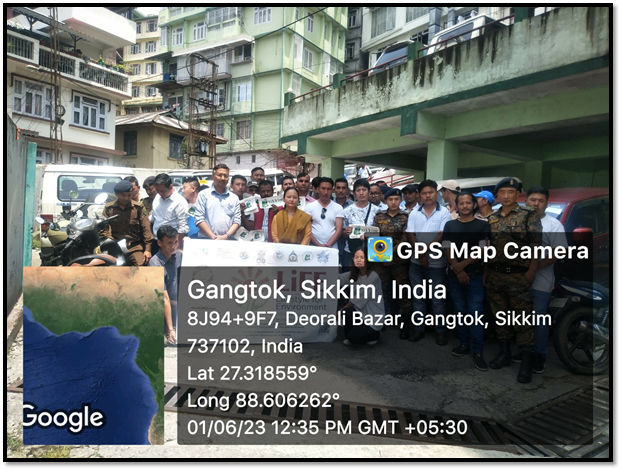 Environment Education Programme (EEP)
Various Eco-clubs under Environment Education Programme (EEP) organized 1022 events for promiton of Mission LiFE with participation of more than 37,000 children on June 1, 2023. More than 36,000 LiFE pledges also were taken during the day's events.
Under Mission LiFE mass mobilization campaign various schools in Madhya Pradesh organized LiFE pledge events, essay and painting competitions, etc. for Eco-Club students. LiFE pledge was taken by all the Principals of HS and HSS, of District Mandla, MP under the leadership of Shri Rajesh Chatri, NGC In-Charge. The participants were also sensitized about EEP and also on environmental protection, water conservation, cleanliness, and biodiversity conservation. EEP resource materials were also distributed to the participants.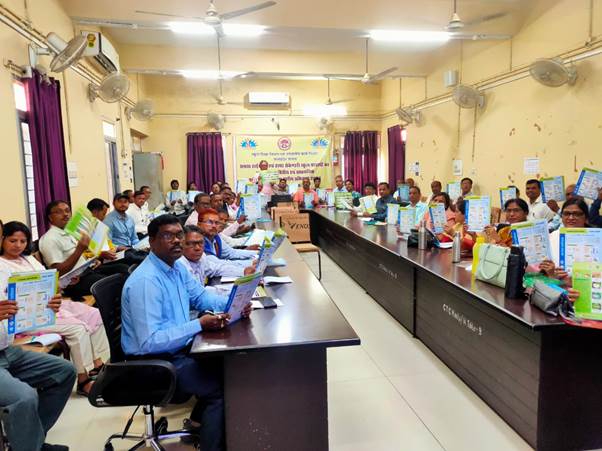 Around 20 Eco-club schools engaging 1000+ students took active part in Mission LiFE propagation and awareness in Sikkim. Activities included awareness on Mission LiFE theme on morning assembly, distribution of saplings and plantations, etc.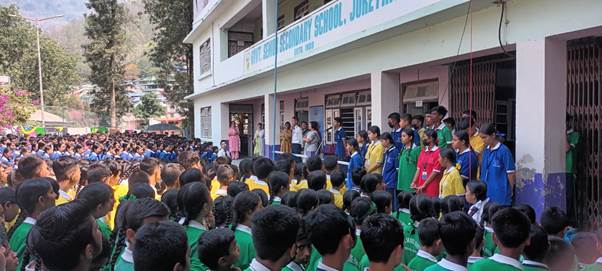 Students of Government Upgraded High School, Saintala, Bolangir district, Odisha have started collecting seeds and making seed balls for plantation in view of the rainy season.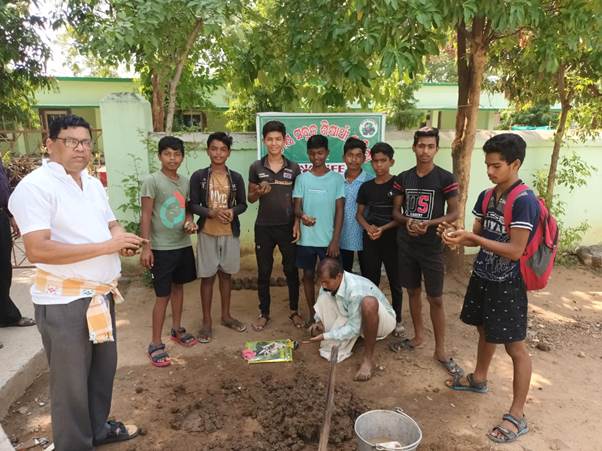 ******