"We are witnessing the role of safe drinking water in saving lives, empowering women and girls, and contributing to ease of living". This was stated by Dr V K Paul, Member (Health), NITI Aayog at the launch of the groundbreaking report of WHO highlighting the substantial benefits of the 'Har Ghar Jal' program in India, here today. "No programme has this kind of direct impact on improving the lives of individuals and families physically, mentally, and financially", he stressed. Dr. Paul commended the speed and scale of the programme and said, "A new connection is being added every second and transforming public health in India today."
The report estimates that ensuring safely managed drinking water for all households in the country could avert nearly 400,000 deaths caused by diarrheal diseases and prevent approximately 14 million Disability Adjusted Life Years (DALYs) related to these diseases. This achievement alone would result in estimated cost savings of up to $101 billion. The analysis focuses on diarrhoeal diseases as it accounts for majority of WASH-attributable disease burden.
Smt Vini Mahajan, Secretary, Department of Drinking Water and Sanitation, Ministry of Jal Shakti, and Dr. Rajiv Bahl, Secretary, Department of Health Research, Director General, Indian Council of Medical Research, Dr. Roderico H. Ofrin, WHO Representative to India were also present.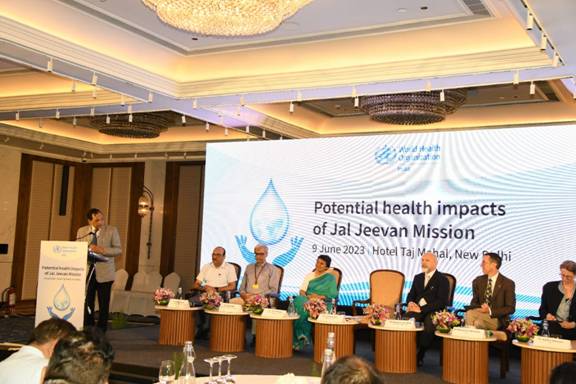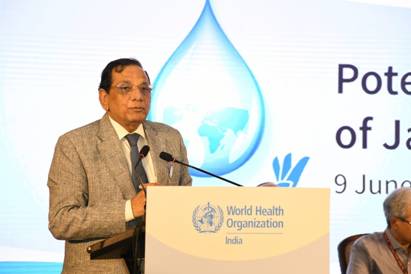 Dr Bahl, DG, ICMR commended the achievement of Har Ghar Jal in providing citizens with access to clean drinking water. "Government of India's investment in Jal Jeevan Mission has a significant multiplier effect on health as has been brought out by this study", he stated.
The 'Har Ghar Jal' report focuses on diarrheal diseases as they contribute significantly to the overall disease burden related to water, sanitation, and hygiene (WASH) issues. The analysis underscores the urgent need to address these diseases and the potential for substantial gains in public health and economic well-being.
Prior to 2019, the situation of water supply in rural areas was challenging. The report reveals that in 2018, 36% of India's total population, including 44% of the rural population, lacked access to improved drinking-water sources on their premises. The direct consumption of unsafe drinking water had severe health and societal consequences. The analysis indicates that in 2019, unsafe drinking water, along with inadequate sanitation and hygiene, contributed to 1.4 million deaths and 74 million DALYs globally.
The World Health Organization (WHO) monitors various Sustainable Development Goal (SDG) indicators, including the proportion of the population using safely managed drinking water services (Indicator 6.1.1) and mortality related to unsafe water, sanitation, and hygiene (Indicator 3.9.2). WHO has developed methods and tools to estimate the health gains associated with improvements in water, sanitation, and hygiene, particularly in reducing diarrheal diseases and other related health outcomes.
The report emphasizes the tremendous time and effort saved for women and girls through the provision of tap water. In 2018, women in India spent an average of 45.5 minutes daily collecting water to meet household needs. Overall, households without on-premises water spent a staggering 66.6 million hours each day collecting water, with the majority (55.8 million hours) occurring in rural areas. Universal coverage through tap water provision will result in substantial savings by eliminating the need for daily water collection efforts.
During the announcement, Smt.Vini Mahajan, Secretary DDWS, highlighted the remarkable progress of the Jal Jeevan Mission. She noted that rural tap water connections increased from 16.64% in 2019 to 62.84% within a span of 41 months, representing an average annual increase of 13.5% compared to a mere 0.23% per annum
About 'Har Ghar Jal' programme:
The Har Ghar Jal Programme, implemented by the Jal Jeevan Mission under the Ministry of Jal Shakti, was announced by Prime Minister Shri Narendra Modi on August 15, 2019. The program aims to provide every rural household with affordable and regular access to an adequate supply of safe drinking water through taps. The program's components align with the WHO/UNICEF Joint Monitoring Programme for Water Supply, Sanitation, and Hygiene (JMP) to monitor progress on SDG 6.1 for safely managed drinking water services
******
MV/JJ