The 'Yoga Mahotsav' witnessed a massive participation of 50,000 enthusiasts at the NCC Parade Ground here today. The event - organised by the Morarji Desai National Institute of Yoga (MDNIY), under the Ministry of Ayush was held to commemorate 25 days to the International Day of Yoga.
Hon'ble Governor of Telangana, Dr. Tamilisai Soundararajan graced the occasion as the Chief Guest as the Union Minister of Ayush Shri Sarbananda Sonowal; the Union Minister of Culture, Tourism & DoNER Shri G Kishan Reddy; the Union Minster of State for Ayush Dr Munjpara Mahendrabhai actively participated in making this grand event a great success. Celebrities from the city like Padma Bhushan awardee & noted Badminton player & coach Pullela Gopichand; cine actors Srileela, Vishwak Sen, Krishan Chaitanya among other dignitaries were also witness to the electrifying atmosphere here today. Dr Ishwar V Basavaraddi, Director, MDNIY conducted the Common Yoga Protocol (CYP) as thousands performed Yoga in a spiritually uplifting atmosphere.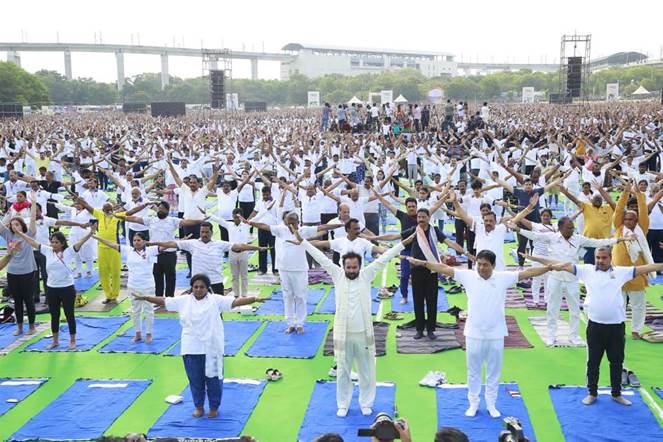 Speaking on the occasion, the Dr. Tamilisai Soundararajan said that this is a wonderful opportunity for all of us to celebrate Yoga as a festival of happiness, festival of health. She urge everyone to embrace yoga. She further said that Yoga will make you happy, yoga will make you healthy, yoga will make you beautiful."
Addressing the gathering, Shri Sarbananda Sonowal said, "My heart is filled with joy to see massive participation in the Yoga Mahotsav by the people celebrating the cause of good health through Yoga. As a true sign of India's glorious heritage, Yoga received an unprecedented boost when the world started celebrating Yoga every year on 21 June. Yoga has continued to reach more and more people around the world and has benefited all for their physical, mental and spiritual well-being. Yoga has surpassed all divisions of caste, creed, gender, religion and nationalities. In the whole world, people of all ages have embraced it for their benefit. The theme of IDY for this year is quite apt — Yoga for Vasudhaiva Kutumbkam. It perfectly echoes the mood, spirit and acceptance of Yoga at national and global levels. From villagers to city dwellers, from students to home makers to corporate employees - all are embracing Yoga to remain healthy both physically as well as mentally. The untiring efforts of our charismatic Prime Minister Shri Narendra Modi ji have resulted in ever increasing impact of Yoga and its acceptance by the world community. Today, the whole world is accepting Yoga as an unfailing vehicle of holistic health and well-being."
Highlighting the novelties in the celebration of this year's IDY, Shri Sonowal added that these novelties would be on international, national and local levels.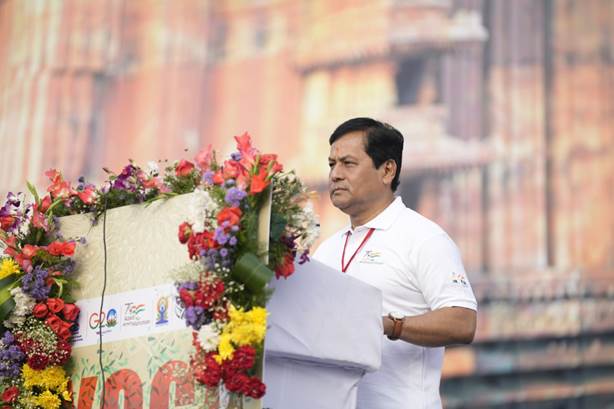 He informed, "On the International level, an Ocean Ring of Yoga will be created on June 21st when with the help of the Ministry of Defense, Ministry of External Affairs and the Ministry of Ports, Shipping and Waterways Yoga demonstrations at many ports, on many ships will take place and many friendly countries will also join hands in this exercise. Similarly, Yoga demonstrations will also take place from Arctic to Antarctica— countries falling on or near the Prime Meridian line will join the Yoga demonstration. The flight Decks of INS Vikrant and INS Vikramaditya will showcase Yoga demonstration in synergy. Under Yog Bharatmala. Indian Army, Indian Air Force, Indian Coast Guard and Border Road Organisation will join hands for Yoga demonstration at borders, coasts and Islands to form a Yog Bharatmala. Yoga will also happen on North and South Pole regions. Himadri — the Indian Research Base in Svalbard, Arctic as well as Bharati — the third Indian Research Base in Antarctica. At the local level, Panchayats, Anganwadis, Asha/ANM will be involved in Yoga demonstrations. Health and Wellness centres of both Health and Ayush Ministries, which are more than 1.5 lakh in the country and all the Amrit Sarovars (around 50 thousand) will have Yoga demonstrations. This year we will witness 'Har Aangan Yog' is going to happen in true spirit."
Speaking on the occasion Shri G Kishan Reddy said, "Yoga is a wonderful gift of India's rich heritage to empower humanity to remain hale & hearty. As all of us have congregated here, the massive turnout by all of you has affirmed people's outpour of love for Yoga. This wonder of India's culture was rejuvenated under the dynamic leadership of Prime Minister Shri Narendra Modi ji as it has now become a global movement towards living healthy. In today's world, the role of Yoga in keeping one calm and focussed is immense. We must all embrace Yoga and keep doing it regularly thereby celebrating it always. Let us make this event a grand success as we move on to celebrate International Day of Yoga."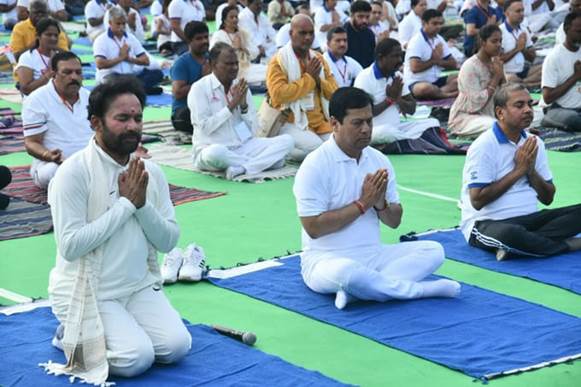 In his welcome address, Dr Munjpara Mahendra said, "International Day of Yoga is now well known throughout the world. Thanks to the untiring and visionary approach of our Hon'ble Prime Minister Shri Narendra Modi ji, the ancient science of Yoga is now fast becoming part and parcel of wellness journey of almost all nations in the world. This 25 Day Countdown is an indication that IDY 2023 is just round the corner and I congratulate all of you again to be part of such an important event. I appeal to all to keep this torch alight."
The event was also attended by Vaidya Rajesh Kotecha, Secretary, Ministry of Ayush; Joint Secretary, Kavita Garg, Ministry of Ayush among other senior officials of union government and state government of Telangana. The event was also attended by Table Tennis player Naina Jaiswal, actress Eesha Rebba, G Sridhar Rao of Patanjali Yoga Peeth, Nandanam Krupakar, Joint Secretary, National Yogasana Sports Federation among other dignitaries and guests.
****