Union Minister of Chemicals and Fertilizers, and Health and Family Welfare Dr Mansukh Mandaviya chaired a roundtable meeting with the leading CEOs of pharmaceutical industry in the country on the second day of 8th International Conference on Pharma and Medical Device Sector, here today. Ms. S Aparna, Secretary, Department of Pharmaceuticals was also present.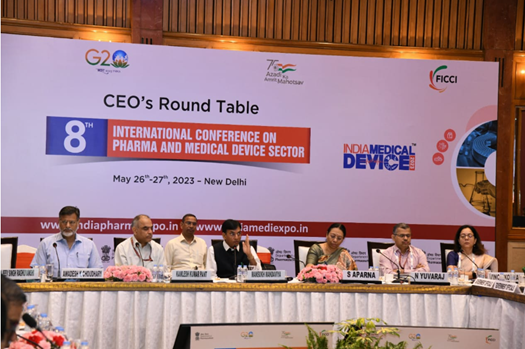 Lauding the growth momentum of the industry, the Minister said "the industry is progressing at a rapid rate, and to maintain our stature as the 'Pharmacy of the World', we need to focus on quality and affordable manufacturing with an increased focus on research and innovation." Adding further Dr. Mandaviya urged the stakeholders to capitalize on the current opportunities, stating "substantial investment in terms of Production Linked Incentive schemes as well as upcoming drug parks are bearing fruitful results. To catalyze growth, we must maintain a degree of competitiveness to consolidate our presence in the world."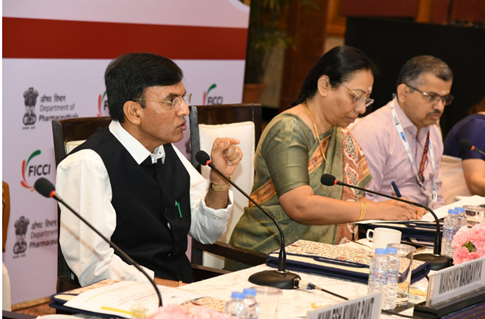 Reiterating the government's commitment and resolve, the Union Health Minister stated "the government is industry friendly and welcomes opportunities for collaboration. The government and industry, both integral to the nation's progress, must work cohesively to achieve holistic growth."
Affirming government support, Dr. Mandaviya invited the stakeholders to put forth their suggestions addressing the aspects of pricing, regulatory, policy and strategy, with the respective action points in a detailed presentation and due consideration will be given to facilitate further policy support and growth.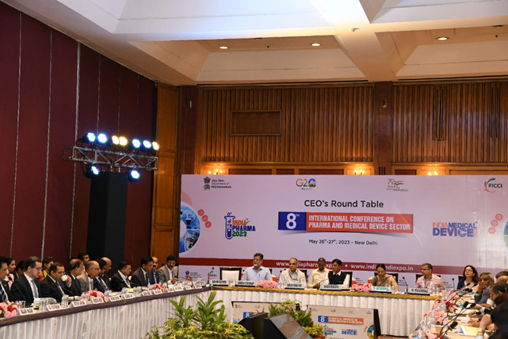 Underscoring the potential future growth of the industry, Ms. S Aparna, Secretary, Department of Pharmaceuticals urged the attending representatives to collate and collectively represent their perspectives adhering to the aforementioned four categories to facilitate policy makers, government in fostering a stronger ecosystem for all.
The roundtable brought together participants from over 60 companies represented by senior leadership, with several key players having a presence in the national as well as international markets. Shri N Yuvaraj, Joint Secretary, Department of Pharmaceuticals, Shri Awadhesh Kumar Choudhary, Senior Economic Advisor, Smt. Vinod Kotwal Member Secretary, National Pharmaceutical Pricing Authority, DCGI Dr. Rajeev Raghuvanshi, Chairman NPPA Shri Kamlesh Pant, various industry stakeholders and representatives of academia and associations were also present in the conference.
About International Conference on Pharma and Medical Device Sector:
The annual flagship conference will be conducted over two days – 26th May 2023 dedicated for India Medical Device sector on the theme "Sustainable MedTech 5.0: Scaling and Innovating Indian MedTech," and 27th May 2023 dedicated for the Pharmaceutical sector on the theme "Indian pharma industry: Delivering Value through Innovation.
****