On completion of 9 Years of the Union Government, a National Conclave was organised by the Ministry of Information and Broadcasting with the theme "9 Years of Seva, Sushasan, Garib Kalyan" at Vigyan Bhawan in New Delhi. As part of the Conclave, three thematic sessions were held with esteemed panellists to discuss various achievements of the Union Government under the decisive leadership of Prime Minister Shri Narendra Modi and the persistent efforts being undertaken by the Government for rapid advancement of the nation and betterment of masses. The first session was on the theme 'India: Surging Ahead'. The session elucidated how India has undergone a remarkable transformation into a prominent global leader under the able leadership of Prime Minister Shri Narendra Modi.
The session was moderated by eminent journalist, Shri Nitin Gokhale and featured distinguished speakers from different walks of life, including Shri Sunil Bharti Mittal, Founder Chairman of Bharti Enterprises, Smt. Sangita Reddy, Joint Managing Director, Apollo Hospital, Smt. Debjani Ghosh, President NASSCOM, Shri Surjit Bhalla, former Executive Director for IMF India, Shri Soumya Kanti Ghosh Group Chief Economic Advisor, State Bank of India and Smt. Deepa Sayal, Founder and President of Indian Women Institutional League (IWIL) India.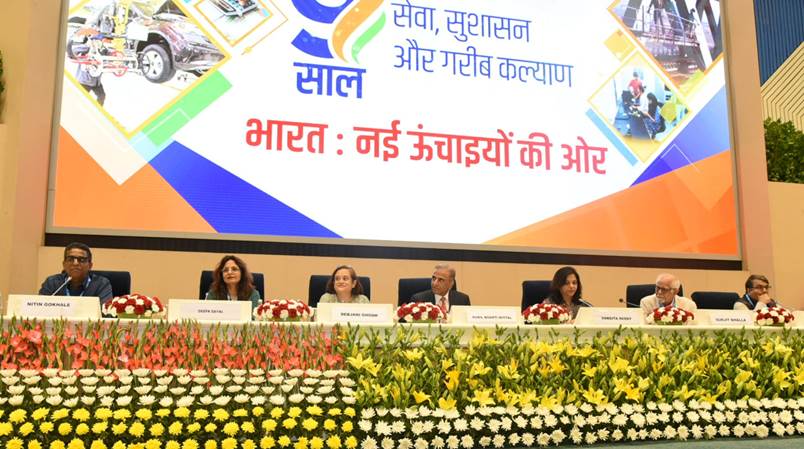 Shri Gokhale, setting the backdrop for the session said, "India has embarked on a path of transformation which has not been seen for decades together and India stock has risen globally". He said "Morgan Stanley said in November 2022 that this is going to be India's Decade. IMF in April, 2023 predicted India will emerge as the fastest growing economy in the world. India is surging and taking a lead in balancing the world order and therefore this conclave could not have come at a better time."
Shri Sunil Bharti Mittal, talking about the decade of good governance under Prime Minister Shri Narendra Modi, said that we have all experienced and seen the difference in the past few years. He said businesses require decisive leadership and after a long period of time we have a leader who is recognised as a global leader and one determined to make India a developed nation. Talking about telecom sector, he said India has the fastest 5G rollout and by March, 2024, India will have 5G across every nook and cranny of the country. He added that "Government has used the power of technology to its utmost advantage for ushering in the reforms and benefits to the masses of the country". He said we have seen fantastic 9 years and the audacious target of 5 trillion-dollar economy which looked like a difficult task a few years back is now in sight and we should be able to achieve it by 2027.
Smt. Sangita Reddy, Joint Managing Director, Apollo Hospital, spoke about how India made extensive and effective plan to fight the COVID Pandemic. She said our country stood out in tackling a crisis which wiped out many countries and it was due to the masterful management of the situation by our Prime Minister and the Government. She praised the People's curfew which provided the time and space for the necessary infrastructure to be put in place and helped in tackling the pandemic effectively. Talking about the COVID Vaccines, she said "its commendable and reflective of India and our Prime Minister's Global thought process that 50% of world's vaccines were manufactured in India and it created a vaccine diplomacy on an unprecedented scale". She said Government's approach was "well-coordinated, fantastically masterminded strategy which was powerfully executed". She further added that "the foundation is well set in India and not only can India take care of its own people well but has become the medical tourism destination of the world, currently we are number 4 but I believe that soon we will be number 2". She urged the youngsters to use Yoga, Ayush and take care of their health as India has a great future ahead and it lies with the younger Generation.
Shri Surjit Bhalla, former Executive Director for IMF India, at the very onset said India has emerged as the best performing economy in the world during the shocking COVID period and today. Talking about the poverty reduction he said, "the entire process of government was geared towards ensuring that the bottom half of the population at least did not suffer any hardship as a consequence of COVID". He spoke about the infrastructure transformation and said he is working on a study to see whether there is any economy in the world that has shown such a transformation in the last 9 years. He added that this government has shown to first, imagine the impossible and second, deliver it effectively and this is the real performance index of this government. He said Indian innovation is truly unique, Indian and better than any country in the world and books will be written about the speed of the transformation of India.
Smt. Debjani Ghosh, President NASSCOM said in 2008 only 17% Indians had bank accounts and a study said it would take India 46 years to achieve 80% penetration but India took just 7 years to do it. Why India could do it and disrupt status quo is due to technology, Aadhar, India stack, Digital Payment and the most genius financial inclusion program Jan Dhan Yojana. She said "the JAM trinity programme has enabled us to take banking to the grassroot level. Technology is available to all but what made the difference in India was the talent, the people which enabled us to challenge the status quo. 245 billion dollar revenue is what our tech industry generates and pace of growth and innovation is unprecedented and is being driven by talent which has made India an innovation hub and a startup hub". She asserted that the 'I' in innovation stands for India., it has brought all big companies to do their innovation in India. She further added that "technology had been a luxury of the rich and urban but India turned this on its head and started from the grassroots and scaled it up. Ability to think bottoms up has made it possible". She said 36% of the 5.3 million people working in tech sector are women and they are driving the change and innovation.
Smt. Deepa Sayal, Founder and President of Indian Women Institutional League (IWIL) India said she is very proud that my nation is changing at such pace and the pace and scale at which the government is bringing change praise worthy and immaculate. She stated that "Morgan Stanley has said our GDP will double to 7.5 trillion dollars by the end of the decade which is huge". She said I have been lucky to be able to go to various states and connect with Startups, and women and children all are so charged up to begin and be self-employed. She talked about the phenomenal journey of startup that have increased from 450 in 2016 to 90000 startups in 2023 and said she must congratulate Prime Minister Shri Narendra Modi for this.
Shri Soumya Kanti Ghosh, Group Chief Economic Advisor, State Bank of India talking about the key numbers said "COVID was the largest disruption for mankind but last year our nominal GDP expanded by 37 trillion. FY 2014 - 20 our average was 14.5 trillion so we did 2.5 times more than last 6 years that's why recovery was fastest. Talking about 5 Trillion Dollar Economy goal, he said India took 57 years to get to 1 trillion and then every 7 years we added 1 trillion and now norm is every three years we add one trillion and in the last two years our economy added 750 billion and that is why in 2014 we were 10th largest economy, in 2015 we are 7th, in 2019 we were 6th and 2022 we were 5th and supposed to be 4th in 2026 and 3rd in 2028 and this is the transition in terms of rebound". He talked about various schemes of the Union government and informed that women involvement has been very high in all of them and it has led to women empowerment and financial freedom. He said our service exports has doubled in past 7 years. Summing up he said that all numbers point out towards an India which is inclusive and expanding at an exponential rate.
In conclusion, all spoke about what is next for India in the coming 5-10 years. Smt. Deepa Sayal said employability is an opportunity and a challenge and we need to inculcate the right skill set to tap this opportunity. Smt. Debjani Ghosh said the power of youth, talent, innovation will ensure that when the world thinks digital, technology and innovation the world will think of India. Shri Sunil Mittal said "the foundation for a very bright future for our country has been laid in the last 9 years and we need to build on what we need to do. This is a rare opportunity for India with a confluence of a decision leadership and strong tailwinds and it is a delightful position for India, and we need to ensure good education, training and skilled for our large young population which will together ensure a bright future for India". Smt. Sangeeta Reddy said last 9 years is 468 weeks and over 500 schemes launched so 1 scheme every week and we have the time to guide these schemes over next 10 years. She praised Prime Minister Shri Modi for promoting women led development and said the respect for women is going to be transformational for India and set an example for the world. In terms of thought and spiritual and humane leadership India is and will always be number one. Shri Surjit Bhalla said a lot has been achieved and a major reform that India needs is in Direct Taxation and concluded by saying the India is one of the most overtaxed economies in the world and hoped that a reform will come to lower the effective tax rate which will help in achieving a higher GDP Growth Rate.
*****