The Union Power and New & Renewable Energy Minister R. K. Singh held a meeting with Frans Timmermans, Executive Vice President, European Green Deal, European Union in New Delhi yesterday, May 26, 2023. The meeting was held to discuss cooperation under the EU – India Clean Energy and Climate Partnership. The discussion touched upon energy efficiency; renewable energy, including solar and offshore wind, green hydrogen; energy storage, diversification of global supply chain for energy sector, the International Solar Alliance, India's presidency of the G20 and how India and EU can partner each other on the clean energy transition.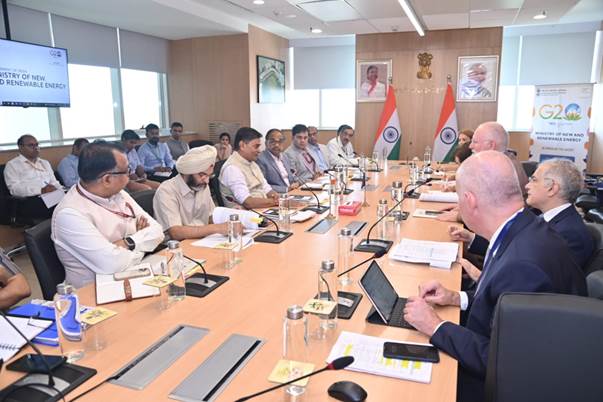 "Looking for Partners who believe in going Green as fast as possible"
The Power and New & Renewable Energy Minister informed the visiting EU delegation that as India is growing, the power demand is accelerating. While the established capacity in India is 416 GW, it is going to double by 2030. India is accordingly adding rapidly to its power generation capacity. onHHonTheThe Minister pointed out that despite India's per capita and cumulative emissions being one of the lowest in the world, it has emerged as a leader in Energy Transition and Climate Action.
"Need to Add Manufacturing Facilities for Energy Storage, to Bring Down Storage Cost"
The Power and New & Renewable Energy Minister informed the European Union delegation of the various steps being taken by India to ramp up renewable energy capacity. He said that manufacturing capacity for the most advanced solar cells and panels is coming up; and by 2030, total manufacturing capacity of 80 GW will come up. This will meet India's requirements and provide surplus for exports. This will address the supply chain issues of the world. The Minister stated that storage is needed in order to provide round-the-clock renewable energy and the transition to Net Zero. He informed that recognizing the need to add storage capacity, the government is coming up with bids for more storage. Government of India has already come up with a bid for Production Linked Incentive for energy storage; and it is planning to have one more bid. He sought the cooperation of the EU in encouraging other countries too to add manufacturing facilities for energy storage so that the price of storage comes down.
Speaking of the need for alternative chemistries such as sodium ion, the Minister suggested that India and the EU do joint pilots, in areas such as green steel and other frontier technologies. The Minister informed that India is doing a pilot for round-the-clock renewables, using hydrogen and ammonia as storage. A construct across the world in this respect will help, he added.
"Journey to Green Hydrogen needs to be on the basis of free and open trade"
The Power and New & Renewable Energy Minister observed that the industry is switching to green hydrogen and that if the journey is to continue, it will have to be on the basis of free and open trade, without barriers. He told the EU delegation that we should guard against protectionism. He also said that we need to increase electrolyser manufacturing capacity if we need to increase use of green hydrogen. India is going to come up with a PLI bid on that, he informed.
The Executive Vice President of European Green Deal appreciated India for its leadership in Renewable energy and energy efficiency and suggested that the two sides find ways to bring the agenda of energy efficiency to the global stage, and help set global energy efficiency targets.
The Executive Vice President spoke of the need for global targets in introduction of renewables and said that we need to look at developing industrial ecosystems which promote renewables. He said that the EU is developing new generations of solar panels and that green hydrogen is also taking off and Europe will become a truly global market. Given the high costs of transporting green hydrogen, he opined that the places producing green hydrogen will attract industrial investment.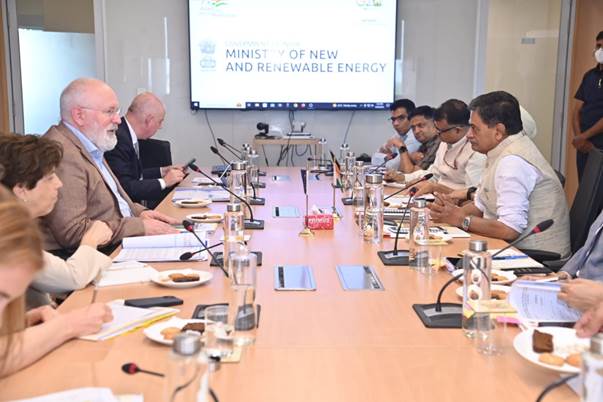 Grid-Scale Battery-based Energy Storage Systems
The Power and New & Renewable Energy Minister spoke of the opportunity for collaboration in batteries for grid-scale storage. He informed that India has come out with a separate Production Linked Incentive for batteries for green mobility. He said that India is going to be one of the biggest markets for green mobility, with 80% of India's 2-wheelers, 3-wheelers and about 50% of 4-wheelers expected to be green by 2030.
The Executive Vice President said that heat pumps is an area where lot of innovation is expected to happen, given the rising needs for cooling and heating. He also said that there is a strong consensus in the EU on need to adopt renewable energy and on making the green transition.
Need to Detoxify Agriculture
The Power and New & Renewable Energy Minister expressed the government's goal of detoxifying agriculture, by making a transition away from chemical fertilizers in the times to come.
"Need to Support Energy-Populations in Getting Energy Access"
The problem of lack of access to energy by 800 million people around the world was discussed. The Power and New & Renewable Energy Minister recalled that even as India and the EU make progress through this collaboration, a large part of the world population, especially in the African continent, suffers from poor energy access.
The two sides discussed the role of International Solar Alliance in bringing solar energy to the millions of people in Africa without access to energy. We need to support them to help them get clean energy and we need to get countries to work with the International Solar Alliance to contribute to clean energy, said the Minister.
This suggestion has been welcomed heartily by the Executive Vice President of the European Green Deal. It was agreed that EU, ISA, Africa and India will need to set up a partnership to address this issue.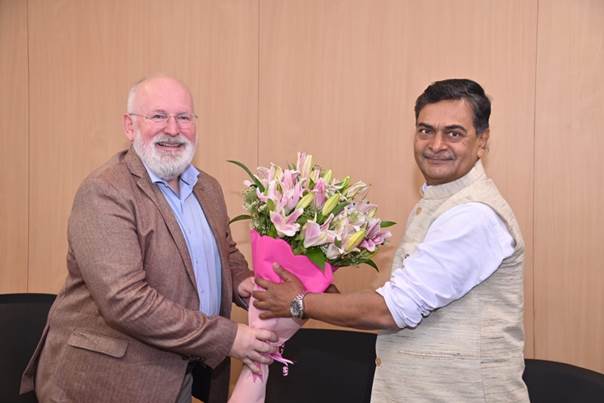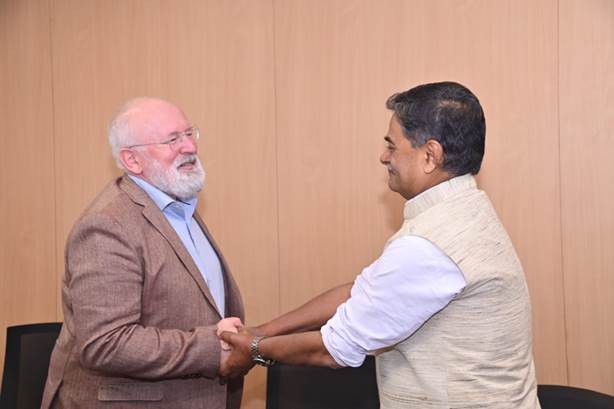 The Executive Vice President of European Green Deal was accompanied by Ugo Astuto, Ambassador of the European Union to India; Edwin Koekkoek, First Counsellor, Energy & Climate Action, EU Delegation; Sara Zennaro Atre, First Secretary, Trade Section, EU Delegation; Estela Pineiro Kruik, Member of Cabinet; Damyana Stoynova, Member of Cabinet; and Diana Acconcia, Director, International Affairs and Climate Finance, Directorate-General for Climate Action, EU.
The Power and New & Renewable Energy Minister was joined by Alok Kumar, Power Secretary; Bhupinder Singh Bhalla, New & Renewable Energy Secretary; and other officers of the two Ministries.
About European Green Deal
As per the European Union, the European Green Deal seeks to transform the EU into a modern, resource-efficient and competitive economy, ensuring:
no net emissions of greenhouse gases by 2050

economic growth decoupled from resource use

no person and no place left behind
One third of the €1.8 trillion investments from the Next Generation EU Recovery Plan, and the EU's seven-year budget will finance the European Green Deal. More about the Deal here.
***