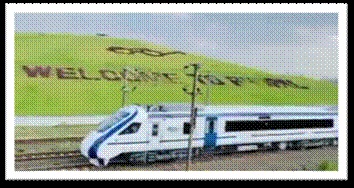 Garbage Dumps and open dumpsites are being transformed rapidly to change and beautify the urban landscape. Under Swachh Bharat Mission Urban 2.0, it was realised that transforming garbage dumps in urban areas was the need of the hour to protect environment and reduce health risks. Many States are taking creative steps to transform and beautify these garbage dumps in urban areas which eventually lead to sustainable development and a healthier, greener future. It has also created avenues for waste reduction, recycling, and reusing, helping in the sustainable use of resources.
Bhopal's exemplary dumpsite remediation is an inspirational example of transformation of urban spaces. Flagged off by Hon'ble PM Sh. Narendra Modi, the Vande Bharat Express travelling between Bhopal to Delhi zooms past a dumpsite-turned-green zone in Bhopal. It was beautified after 37 acres of land was reclaimed.
Navi Mumbai Makes Urban Spaces Usable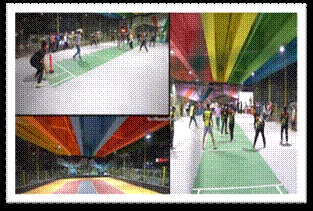 Navi Mumbai Municipal Corporation (NMMC) took an innovative approach to embark on an ambitious plan to convert area under bridges/ flyovers into community recreational facilities. An example of this can be seen in a public sports complex built under the Sanpada flyover in Mumbai. A sports complex was created as per the height of the bridge, where a basketball court, badminton court, box cricket zone, and skating rink were all painted in vibrant colors, creating a visually appealing and attractive space. The complex was also equipped with safety nets to ensure the safety of the players.
The success of the Sanpada flyover project has encouraged Navi Mumbai to plan and execute more such projects in future. The Ghansoli-Talawale bridge has already received a facelift last year with new paintings and lighting. This year, the area will be transformed into a garden and a seating area for industrial workers. The second stretch of the Sanpada Bridge will have a yoga center, and the Seawoods Bridge will undergo a beautification drive along with a sports complex.
The once-neglected spaces have now become thriving centres of activity, fostering social interaction, and promoting a healthy lifestyle among the residents. Not only has it revitalized neglected areas, but it has also improved the health and well-being of citizens.
Surat's Creative Initiative to Eliminate Garbage Dumps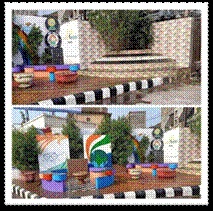 Surat's conversion of garbage dumps into seating areas for the public has been a remarkable transformation. To eliminate garbage dumps, the Surat Municipal Corporation (SMC) transformed many of these points into seating areas. Under this initiative, Surat identified the garbage dumps and transformed them into seating area equipped with benches, lights, and trash bins. It has also planted trees and shrubs to create a green environment and promote biodiversity. 'Sanjay Nagar circle' is one of the few examples of these transformations, where the garbage dump site has been converted into a beautiful seating area by SMC. The corporation ensures daily coverage of door-to-door garbage collection from the surrounding area to ensure 100% waste collection.
Patna's Swachhata Journey: Garbage Points to Green Zones
Patna was struggling with the increasing number of garbage dumps for a long time. To transform these garbage dumps into green zones and promoting a sustainable environment, Patna Municipal Corporation began a massive garbage dumps transformation drive in which a total of 630 garbage dumps across the city were cleaned and beautified. The mass garbage dumps removal drive emerged as massive development in the city.
The transformation drive was then conducted in 4 phases including 19 wards from each 19 zones of the PMC jurisdiction. PMC officials conducted awareness activities in which they rallied in the wards playing musical instruments and urging citizens to keep the city clean. The listed garbage dumps were cleaned extensively and the corporation made an appeal to the residents to keep the city clean and wreathed the offenders with garlands made out of disposable cups, bottles, wrappers and kitchen waste.
The Transformation of 630 Garbage Dumps
Patna Municipal Corporation began its transformation drive of garbage dumps by converting such sites into green zones. The cleaned-up spaces were beautified by planting saplings, paintings, placing benches made out of discarded items like rubber tubes, tires, tins and other plastic materials.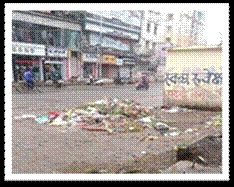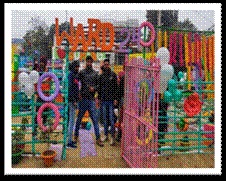 Many of the garbage points were also turned into selfie points. Later, PMC even celebrated various festivals and events on the transformed garbage dumps including Litti Chokha program on New Year's Eve, Dahi chura on Makar Sankranti and a Kite Festival.
The transformation of garbage dumps into beautiful urban spaces is an excellent example of how innovative ideas and community engagement can help to address environmental and social issues in cities. This process not only improves the quality of life for locals but also creates a sustainable and green environment for all.
***********