Department of Consumer Affairs, in association with the Government of Maharashtra, organized a Round Table Conference on "How to Effectively Redress the Grievances Pertaining to Real Estate Sector" in Mumbai today (April 18, 2023). The conference had participation of a diverse group of stakeholders, including government officials, Chairman of RERA, Delhi, Chairman MahaRERA, Officials from MOHUA, IBBI, legal experts, industry leaders, and consumer rights activists, to identify actionable solutions to the pressing issues faced by homebuyers and builders in the real estate sector. Several topics related to real estate were covered during the conference, such as systemic policy interventions to reduce litigation in the housing sector, the reasons for the high number of cases filed before Consumer Commissions despite the existence of separate authorities like RERA specifically for housing sector cases, and ensuring effective and timely resolution of housing sector cases.
The Secretary of the Department of Consumer Affairs for the Government of India, Rohit Kumar Singh, in his address, highlighted the staggering number of pending cases in the housing sector at different consumer Commissions. Out of over 5.5 lakh cases currently awaiting resolution, over 54,000 cases related to housing sector. This backlog of cases highlights the importance of providing speedy justice and streamlining the process for homebuyers.
To address these challenges, the Secretary suggested implementing a simple, model buyer agreement that could help to streamline the homebuying process and protect consumers from potential abuses. This agreement could help to reduce disputes between homebuyers and builders and ensure that consumers have access to effective, speedy, hassle-free, and inexpensive grievance redressal mechanisms.
The Secretary, Department of Consumer Affairs, also highlighted the significance of the Consumer Protection Act 2019, which recognizes housing construction as a service and categorizes developers as product sellers. This recognition helps to ensure that homebuyers have access to the same consumer protections that they would receive when purchasing any other type of product or service. It was also highlighted the need for continued focus on the housing sector in India, particularly when it comes to protecting consumers and streamlining the homebuying process. By implementing measures like model buyer agreements and effective grievance redressal mechanisms, the backlog of cases can be redressed and ensure that homebuyers are treated fairly and protected from potential abuses, he stated.
Additional Secretary, Department of Consumer Affairs, Govt of India, Nidhi Khare, in a detailed presentation outlined a comprehensive overview of the legal provisions under various statutes designed to protect the interests of homebuyers. She delved into the roles and responsibilities of homebuyers under the Real Estate (Regulation and Development) Act, 2016 (RERA), Consumer Protection Act, 2019, and the Insolvency and Bankruptcy Code, 2016. The presentation also addressed the increasing number of cases filed by homebuyers and the impact of these disputes on both homebuyers and builders, leading to distrust within the sector.
During the conference, Member NCDRC, Binoy Kumar, underscored the importance of the builder-buyer agreement as the fundamental document governing transactions in the real estate sector. He suggested that the buyer agreement should be made more efficient and in line with Supreme Court orders, which would subsequently reduce the number of cases filed by homebuyers.
During the conference, several key takeaways emerged as crucial points of discussion. The prevalence of real estate cases in consumer commissions led to suggestions for utilizing similar judgments to expedite the legal process and encouraging parties to engage in discussions to resolve disputes amicably. The success of conciliation in resolving disputes was emphasized, urging for better cooperation between consumer courts and RERA to prioritize conciliation over litigation. The importance of completing and distributing incomplete projects, rather than opting for insolvency under IBC, was stressed, along with a call for transparency among all stakeholders.
Insights were also provided on misleading advertisements in the real estate sector, emphasizing the need for enhanced transparency between buyers and developers to avoid future legal disputes. Lastly, recommendations were made to improve the Builder Buyer Agreement, including disclosing additional charges, outlining issue redressal processes, ensuring legal compliance by developers to keep consumers informed about project progress, and implementing initiatives to resolve minor issues through phone calls. These takeaways aim to enhance transparency and consumer protection in the real estate sector.
During the conference, key problems identified for the homebuyers are as follows:
Delay in delivery of possession of property to homebuyers.

No compensation for delay in possession to homebuyers.

Biased, one-sided, and unfair builder-buyer agreements.

Amenities not provided to homebuyers as per the agreement.

Misleading advertisements by developers and influencers for luring homebuyers.

Non-adherence to the model builder-buyer agreement proposed by RERA.
Key suggestions made during the deliberations included:
Sending the draft agreement to buyers before execution.

Clearly mentioning permissions and sanctions obtained from competent authorities on the first page of the agreement.

Prohibiting builders from launching projects before obtaining all necessary permissions and sanctions.

Including an exit clause for homebuyers in all agreements, valid until the Occupancy Certificate (OC) or Completion Certificate (CC) is obtained and possession is offered by the builder.

Including a schedule of additional charges beyond the cost of the unit/apartment in all agreements.

Requiring all agreements to contain mandatory declarations regarding no dues from any authority/banks and all necessary legal sanctions and approvals from competent authorities.

Taking strong action against unfair and misleading advertisements by developers and endorsers.

Forming a committee comprising members of the National Commission, various State Consumer Commissions, RERA, Department of Consumer Affairs, and IBBI to effectively deal with the issue.
The Department will also collaborate with other relevant authorities and organizations to ensure the effective implementation of the proposed measures, monitor their impact on the real estate sector, and make necessary adjustments as needed.
Furthermore, the Department of Consumer Affairs will maintain an open dialogue with stakeholders and the public, keeping them informed about progress in addressing real estate issues in consumer commissions and seeking their feedback for continuous improvement.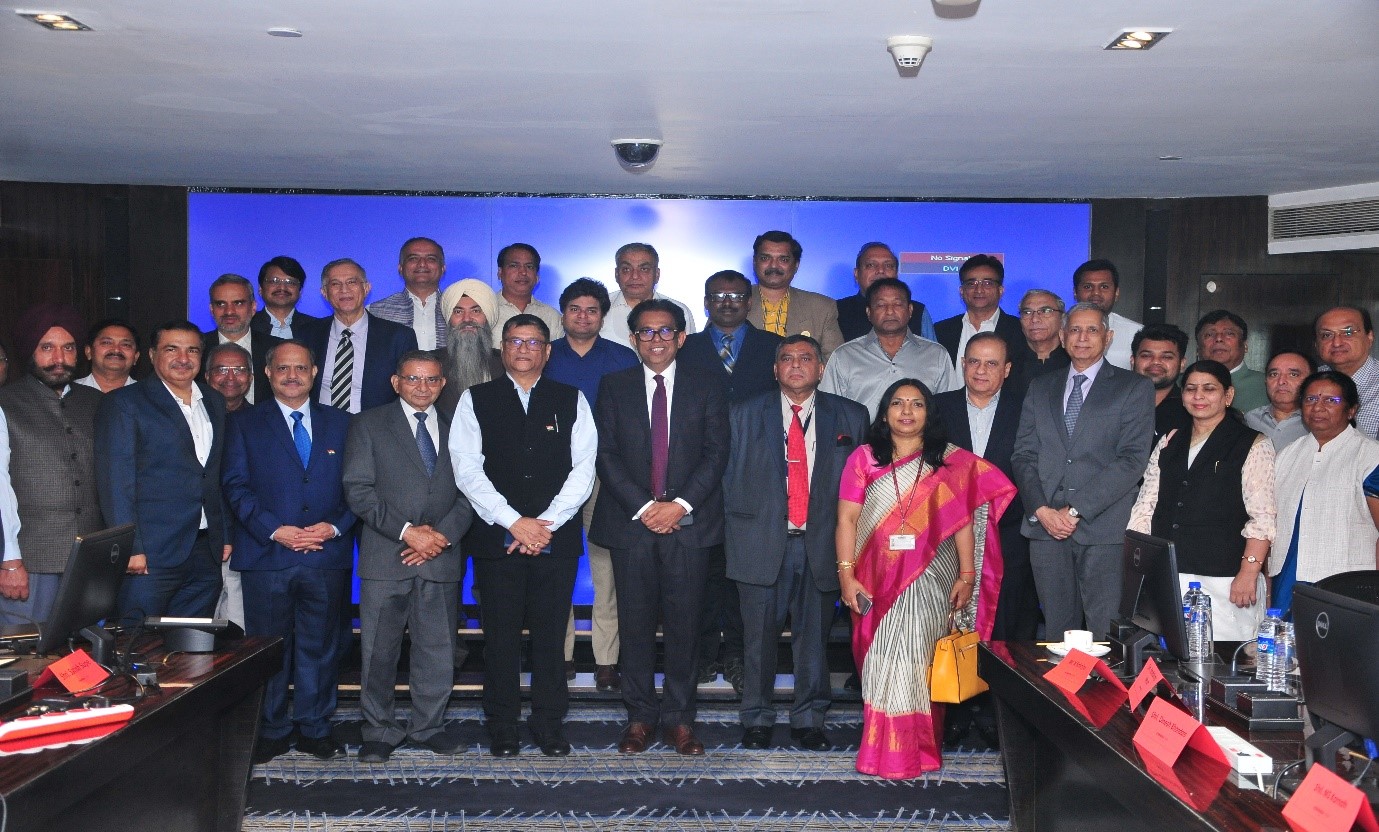 The Round Table Conference concluded with a commitment from all stakeholders to work collaboratively to establish a more effective and efficient framework for addressing disputes and grievances. This will ultimately lead to a more transparent and consumer-friendly real estate market.
In conclusion, the Round Table Conference on Consumer and the Real Estate Sector marks a significant step forward in tackling the pressing issue of pendency of real estate cases in consumer commissions. By bringing together key stakeholders to discuss and identify actionable solutions, the Department of Consumer Affairs demonstrated its commitment to protect consumer interests and ensuring a fair, transparent, and efficient housing market for all homebuyers.
*****