e-NAM, a flagship initiative of the Ministry of Agriculture and Farmers Welfare, has won the Platinum Award in the Digital Empowerment of Citizens Category in Digital India Awards 2022 held in New Delhi today. The President of India, Smt. Droupadi Murmu, as Chief Guest of the event, has conferred the Digital India Awards, 2022 to Dr. N. Vijaya Lakshmi, Joint Secretary, Ministry of Agriculture, in the presence of Shri Ashwini Vaishnaw, Minister of Electronics & Information Technology, Railways & Communications and other dignitaries.
e-NAM is a digital platform integrating 1260 APMC mandis across 22 States and 3 UTs to facilitate online trading of 203 agriculture and horticulture commodities to enable farmers to realize better remunerative prices for their produce. e-NAM is catalysing the digital transformation of mandi operations and e- trading of agricultural commodities. As on 31.12.2022, more than 1.74 Crore farmers & 2.39 Lakh traders have been registered on e-NAM portal. A total trade consisting of 69 million metric tonnes of worth Rs. 2.42 lakh crore has been recorded on e-NAM platform.
e-NAM is providing various benefits/ facilities to farmers & other stakeholders such as providing access to prevailing commodity price on mobile app, GPS based feature capturing e-NAM mandis and mandi prices within ~100 kms radius along with route map, Advance lot registration, SMS alert on final bid price of the lot & payment receipt, Real time competitive price bidding through e-NAM, weighment integration for accurate weight, bidding progress available on mobile, facilitates direct trade between farmer and trader, direct payment to Farmer's bank account, reduction in the transaction costs of buyers and sellers, FPO trading module to facilitate FPOs to e-trade through e-NAM etc.
Further with the launch of "Platform of Platforms (PoPs) under e-NAM, a digital ecosystem has been created that leverages the expertise of individual service platforms across various segments of Agri value chain. e-NAM is empowering citizens by way of digitalization through ease of operation, accessibility, transparency and efficiency of operations for better price discovery for farmers.
Digital India Awards (DIA) has been instituted by MeitY, under the aegis of National Portal of India to encourage and honour innovative digital solutions/ exemplary initiatives by various government entities in the realm of Digital Governance. Digital India Awards 2022 aims to inspire and motivate not only government entities but also startups in fulfilling the Digital India vision. Digital India Awards 2022 were given under 07 different categories viz. Digital Empowerment of Citizens, Public Digital Platforms, Digital Initiatives in Collaboration with Start-ups, Digital Initiative for ease of doing business, Data sharing and use for socioeconomic development, Digital Initiatives at Grassroots level, Best Web & Mobile initiatives etc. Platinum, Gold & Silver awards have been given to the winning teams under different categories.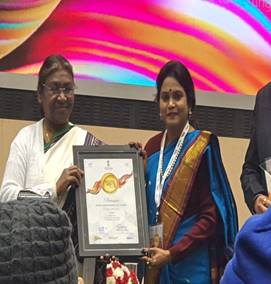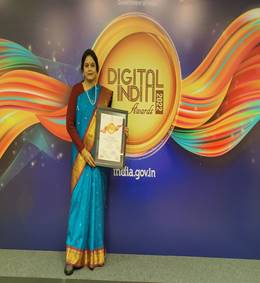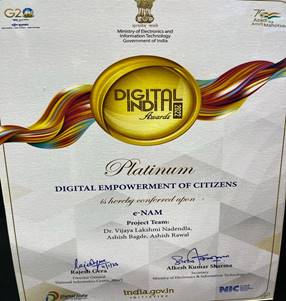 ****