Minister of Social Justice & Empowerment, Dr. Virendra Kumar inaugurated the 'Divya Kala Shakti' Programme at Rang Bhawan Auditorium, Akashwani Bhawan, Delhi, today on 10th Dec 2022.Various Non-Govt organizations working in disability sectors and stake holders of the Department witnessed the extraordinary performances by the Divyang children and youth at the cultural event 'Divya Kala Shakti- Witnessing Ability in Disability' organized by the Department of Empowerment of Persons with Disabilities (Divyangjan), Ministry of Social Justice and Empowerment in collaboration with PDUNIPPD , a National Institution uder the Administrative head of the Department.
After two national events held on 18th April 2019 & 23rd July 2019 at President House & Balayogi Auditorium of India Department is taking Divya kala Shakti to regional levels with the direction of former President Sh. Ram Nath Kovind. Accordingly three regional "Divya kala Shakti" programmes have already been held at various places i.e, Western Region, North Eastern and Southern Region in Mumbai, Arunachal and Chennai. This time the first ever Northern regional Divya kala Shakti held in Delhi where approximately 100 Ar111qqQqqqqtistes have been drawn from different states, cultural societies, institutions, civil societies from Northern regions to make it a truly Northern regional spirit. Department arranged for their rehearsals and practice session with the choreographer and the discipline and precision of timing and performance among such children is the greatest example of their intellectual, creative and their latent ability that needs to be harnessed for their optimal self-actualization. The event was witnessed by about 300 dignitaries representing Senior Government officials, Creative personalities, Educators, Principals, various disability advocacy groups etc.
The performances were presented by children and youth with disabilities ranging from physical, visual, hearing, intellectual, Autism to multiple disabilities and dwarfism. They are capable of excelling in any field, be it art, culture, sports, or anything. The children with disabilities and the audience will always remember the inspiring words said by PM "Divyang are gifted human beings we are working steadfastly towards ensuring an inclusive, accessible and equitable future for our Divyang sisters and brothers. Their fortitude and accomplishments in various fields inspire all of us" .
President of India, also rightly said Divyangjan required no sympathy what is required is empathy and an enabling, barrier free environment.
The programme was packed with several state specific performances that made the evening vibrant. Durga Dance by a cancer survivor and locomotor disable Anita Gupta from East was really an awakening. Really lots of mind-blowing performances by these Divyangjan can inspire one and all.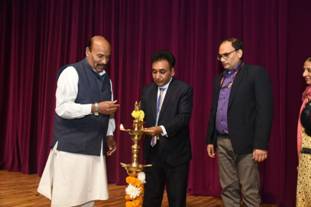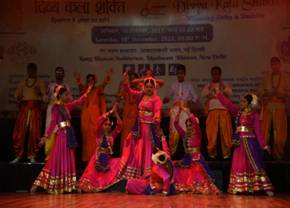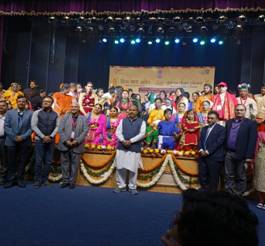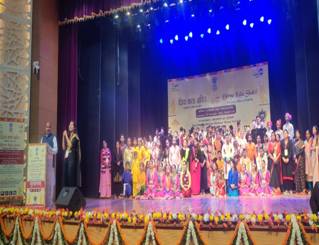 *******